The Best Seat Cushions for OTR Truck Drivers
by Pride Transport | Sep 06, 2022
Comfort on the road is a big deal for professional over the road drivers. Whether it's making life easier with the best apps for truck drivers, or finding ways to promote mental health and physical fitness on the road, it's important to us that our drivers have the right tools and resources to feel supported on the job.
In some cases, that support is literal! Staying comfortable in the cab while you drive isn't just about feeling good from day to day. Having the right support in your seat can help drivers relieve current aches and pains, improve posture, and prevent future issues.
But how do you pick the right seat cushion or back support for yourself? There are so many things to consider, but it's good to start with a few prompts:


What size cushion will fit you and your seat?

You don't want to choose a seat cushion that is too big or small. Make sure you measure your seat, then check the dimensions of cushions while you shop.

Do you have a current pain point you want to solve?

You should talk to your doctor if your seat cushion is part of a treatment plan for orthopedic issues, as a medical professional will likely be able to give you some tips and options to consider.

Check out the reviews.

Who better to trust than other drivers, right? Spend some time reading reviews and looking for advice from others who use the products you're researching. You can also read reviews for cushions and watch for thoughts from those who mention conditions like sciatica or other aches and pains that you might relate to. Pay attention to return policies in case the one you pick doesn't turn out to be the right fit.

Think about durability and firmness.

How long do you spend sitting in the driver's seat each week? You'll want to choose a cushion that will hold up well, keep its shape, and provide the right level of firmness. Stiffer options tend to hold up longer, so if you go for a softer cushion, be prepared to pay attention to wear and tear.

Have a budget.

Like anything, there's a pretty good variety of price points when you're shopping for seat cushions. Some are smaller and less expensive (though some are smaller and

more

expensive); others are full-seat styles that can get pricey fast. Having an idea of what you're willing to pay will help you narrow down the options.
Ready to get shopping? We've looked around and picked a few of our favorite seat cushions for OTR truck drivers to share.

Best Budget Seat Cushion for OTR Truck Drivers
If this is your first seat cushion and you're looking for a great, inexpensive option, we recommend the Xtreme Comforts Seat Cushion. With over 27,000 reviews and a 4.5 star average rating, this is a well-tested cushion! Made of memory foam and covered with a breathable mesh (a handy machine washable cover!), this is a durable option. The bottom of the cover has a non-skid material so stays in place as you drive.
Best of all, it has reviews straight from truck drivers! Reviews consistently mention improvements in hip and lower back pain, good shock absorption for bumpy roads, and great comfort.
Best Overall Seat Cushion for OTR Truck Drivers
The Ultimate Cushion from Purple comes with free shipping, free returns, a 30-day trial, and a 1-year warranty, so there's not much risk to giving this one a try! This is the biggest cushion that Purple makes, which is great for larger truck seats. It has a contoured design to help sitters maintain great posture, with lasting support and cooling thanks to the grid design of the gel. This pillow is totally washable, inside and out, so no worries about spills!
Reviews of the pillow from truck drivers consistently call out lasting comfort on long drives. Users call out improvements in rheumatoid arthritis, back pain, and being able to drive long hours without fatigue. One note: you may need to adjust your seat height to accommodate this thicker cushion option.
If you're really looking for full-seat comfort, you can bundle with the Back Cushion from Purple to outfit your entire seat!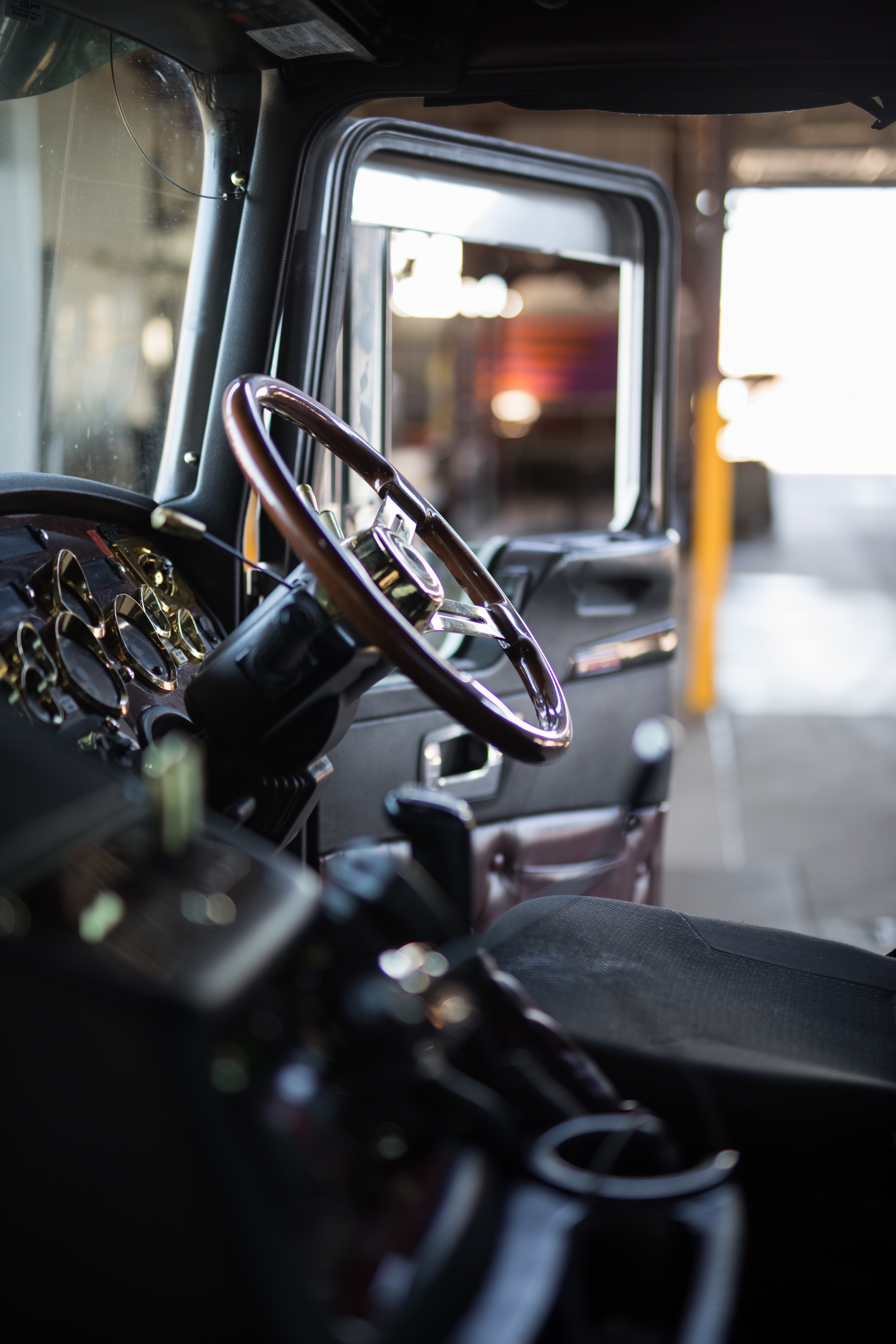 Best Breathable Seat Cushion for OTR Truck Drivers
Life on the road can get warm, especially if you've been parked in the sun or you're faced with a long afternoon drive in the summer. This Purple Gel Seat Cushion is our pick for breathable comfort. More lightweight and portable than our overall pick, this cushion's honeycomb structure and mesh cover keep drivers cool.
Reviewers back up the coolness claims, saying that hot weather didn't impact the comfort or design of the cushion. This one is slightly smaller than our other picks, so make sure you check dimensions to find the right one for you!
Best Inflatable Seat Cushion for OTR Truck Drivers
Maybe you don't need a seat cushion or lumbar support all the time, but you want to have the option without taking up valuable cab space. The Everlasting Comfort Donut Pillow comes with an optional insert (to make it less donut, more pillow) so you can use it for general comfort or for pain relief. Being inflatable also gives you the option to adjust the firmness to fit your individual needs.
While inflatable seat cushions will never be the same type of support as memory foam or gel, they can still provide great support! Reviews talked about using this pillow everywhere from driving to the bleachers on game day, so if you're looking for a flexible "just in case" option this is a great choice.
Lumbar Support Cushions for OTR Truck Drivers
Maybe it's your back that needs a little extra support. A good lumbar support cushion can definitely benefit drivers on long routes. You might like a smaller back support like the Purple options above in our top pick, but this Lumbar Support Pillow offers a full-back support option. Designed to reduce back pain and help you hold the natural curve of your spine, this pillow is a breathable option that includes a 5-year warranty.
Ready to hit the road in comfort? Find out more about the current open CDL jobs at Pride Transport.