The Best Apps for Truck Drivers in 2023
by Pride Transport | Jun 07, 2022
When you spend most of your time on the road, accessibility to information and tools to do your job well is critical. Access to smartphone apps are readily available to help drivers stay efficient and safe on the road.
Apps Built Just for Truck Drivers
If the idea of having separate apps for weather, road conditions, communication, and port information feels overwhelming, we recommend looking at some all-inclusive apps that are designed specifically for truckers.
Trucker Path - With a community of 800K+ users, The Trucker Path app is built to include the most common information that drivers need by offering real-time facility information, location search, GPS navigation, multi-day trip planning and access to a community forum. Whether you're looking for a weigh station, fuel prices, or a safe place to park, you'll be able to find it.
Trucker Tools - Offers resources for truck stop guides, routing and fuel optimization, weigh scales, truck washout locations, rest areas, load tracking and brokering loads.
Truck Driving Apps to Locate Rest Stops and Fuel
Taking care of yourself and your truck is a big part of the job. These apps can help you locate rest stops, price fuel options, and more. The "overall" apps listed above also do some of these functions, but these are additional options:
Love's Connect - This app allows drivers to search for Love's and Speedco locations in a variety of ways, filter their results, and get in line for the next available shower. You can use commercial fuel cards to purchase fuel on your mobile device, look up in-store transactions, and share receipts.
Gas Buddy - Find the best fuel prices around with the Gas Buddy fuel map. Their database includes over 150,000 gas stations in North America, helping drivers find the best prices around. The app also has valuable information about fuel stops and helps you log your fill ups, report gas prices for other drivers to use, and can suggest tips and tricks to use less gas.
Allstays Truck Stops & Travel Plazas - This app includes a variety of facilities, including Flying J Travel Plazas, Loves Travel Stops, TA Travel Center, and Pilot locations. With the ability to search for permanent weigh stations, CAT scales, bulk DEF dispensers, truck washes, tank cleaning, and more, there is a lot of valuable information here for truckers.
Best Navigation Apps for Truck Drivers
Route and trip planning and GPS navigation are staples in the everyday life of a trucker. Navigation apps that allow for multiple stops, route planning, alternative routes, and current conditions are helpful tools to stay on track.
Google Maps - Google Maps is popular for good reason. With helpful street views, traffic updates, voice prompts, and the ability to discover nearby businesses (and see if they're open), Google Maps is a robust GPS tracker option. Recent features include fuel optimization and dietary preferences. However, be aware that Google may not consider trucking-specific driving constraints like overpass height and road width.
Waze - A more interactive GPS app due to other users reporting hazards, slow traffic, speed traps, and other events in live-time. It also allows the user to plan multiple stops along their route and set a desired arrival time.
Road Warrior - This app is all about route optimization. You enter your route and stops (you can even upload a spreadsheet) and provide your driving preferences for the app to generate your best route. While the app is designed to find the most efficient route, it also allows you to customize your plan.
Top Weather Apps for Truck Drivers
Having a heads-up on the weather can be the difference between a safe, efficient drive and a risky one. Find a weather app that is accurate, reliable, and gives you some warning before conditions get interesting.
AccuWeather - Weather industry tracker ForecastWatch deemed AccuWeather as the most accurate weather app. AccuWeather provides a very thorough breakdown of the near-term weather, along with hourly, daily, or 15-day forecasts.
WeatherBug - Provides instant weather alerts from a variety of reputable sources. Turn on notifications and you'll instantly know when the National Weather Service or National Oceanic and Atmospheric Administration issue weather warnings.
MyRadar - If you like more science with your weather app, MyRadar is the option for you. Detailed radar, accurate weather alerts, and particularly helpful wind speed predictions make this a great tool for truckers.
Weigh Station Apps for Truckers
Save time at weigh stations (or bypass them all together) with these helpful trucker apps.
Drivewyze PreClear - Bypass weigh stations up to 90% of the time, depending on your carrier safety score. There's a monthly subscription fee for this app, but it could be worth it for the time you save.
PrePass - In addition to the opportunity to bypass weigh stations, PrePass also offers warnings of upcoming road hazards and safety conditions.Things like work zones, accidents, weather, and gusty wind areas are among the potential alerts. Pride sees the value of PrePass and BestPass and provides it to our entire fleet.
Best Communication Apps for Truck Drivers
The road can be lonely, but that doesn't mean there's no one to talk to. You can also learn a lot of local safety information by listening to public safety scanners. These are our favorite picks.
CB Talk - With over 500,000 drivers on the app, you can bet that there's someone out there to talk to. Share information with other drivers to keep everyone safe from road hazards and delays.
Broadcastify - This app hosts access to over 7000 live audio streams from fire, police, EMS, aircraft, and rail scanners. Options are sorted based on your location, so you'll be able to get the local information you need.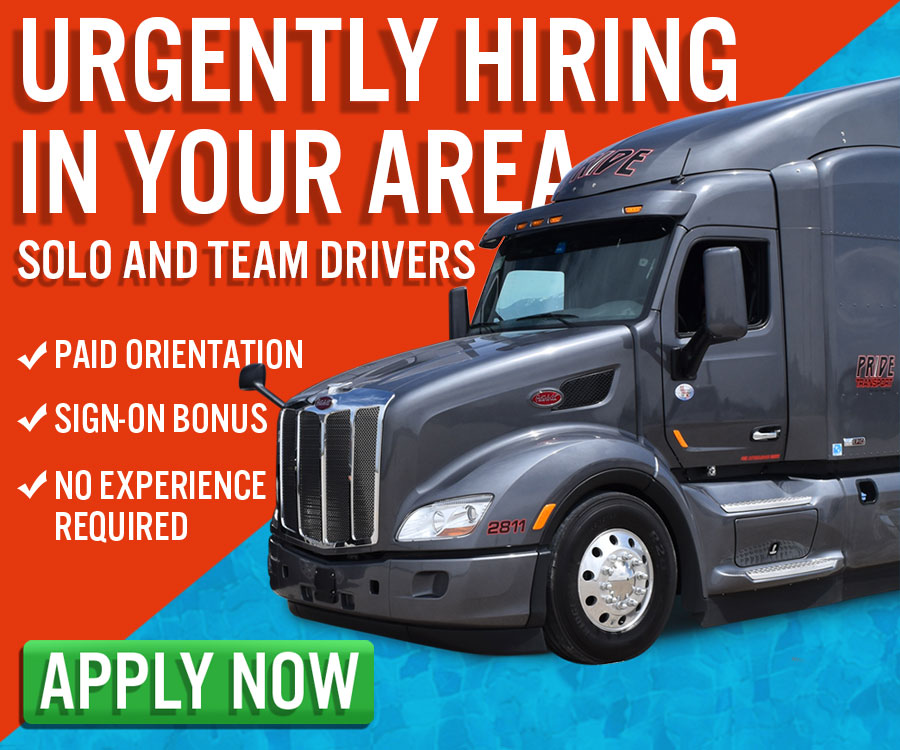 Feeling more equipped to hit the road? Check out current openings with Pride Transport or learn more about us in our Frequently Asked Questions.