Trucking Industry Jobs That Aren't Behind the Wheel
by Pride Transport | May 04, 2023
While many people love being a part of the trucking industry and relish driving for work each day, there are some members (either current or prospective) of the industry who aren't necessarily interested in getting behind the wheel. There are also times when those who have driven trucks in the past might want to move on to a new position that stays closer to home or requires them to use different skills.
The good news is that there are a number of different career paths in the fields of transportation and shipping. You could take on a role in-house such as:


Safety manager

Dispatcher

Freight broker

Sales person

Marketing manager

Administrator
Of course, these aren't the only non-driving jobs in the field. There are many more, all that play just as important of a role as actual drivers in keeping things up and running. Here are several of the most prominent that you may wish to consider if you aren't sure you want to drive.


Working as a Dispatcher
Do you enjoy speaking with people? What about staying on strict schedules and making sure people arrive and depart on time? If this sounds like a role you'd like, you might want to consider becoming a dispatcher.
Dispatchers are an important part of the trucking industry's ecosystem. They have several responsibilities, such as:
Coordinating routes to optimize them as much as possible

Communicating with drivers about delays or assignments

Handling logistics, like accepting phone calls or maintaining records
Dispatchers work directly with truck drivers, so they get to know most people in the company fairly well. They also interact with customers and vendors in some cases, so they need to have strong communication skills. Usually, calls are recorded, so they should feel confident that they can work under pressure and stick to the company's values when interacting with others.
Dispatchers need to have good organizational skills, because they have to keep schedules and trip records organized. Good record-keeping practices are essential, as those help the company stay in compliance with safety regulations at the state and federal level.
For this role, a high school diploma is required. Those with associate degrees in logistics or supply chain management may also like to work in this kind of role.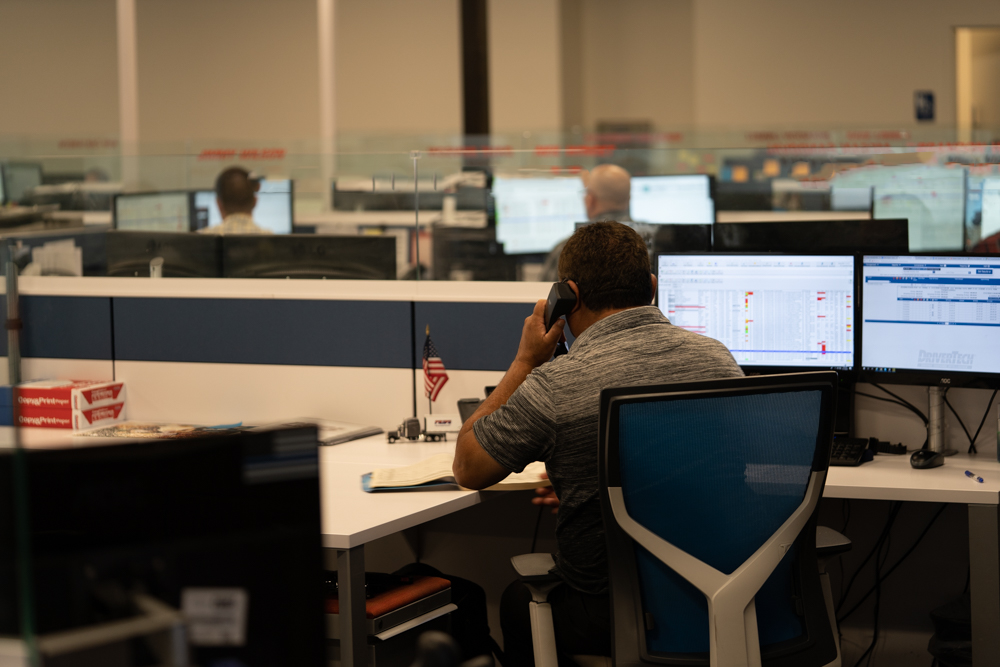 What Does a Freight Broker Do?
Freight brokers are in charge of connecting shippers with carriers. They also negotiate the rates that will be paid and handle all aspects of supply chain management.
It's important for freight brokers to have sales skills. They should also be knowledgeable about the industry and have an agreeable personality that makes it easy for them to build relationships with colleagues and customers.
Freight brokers don't necessarily have to have a college education, since most companies set the minimum education to a high school diploma or GED. However, having certifications such as the Certified Transportation Broker designation could help individuals hoping to get started in this role get the job. Prospective brokers must also complete the training course offered through the Transportation Intermediaries Association (TIA).


Mechanics in the Trucking Industry
Trucks can't run without good maintenance — that's where mechanics come in. Mechanics perform routine maintenance and repairs, keeping trucks on the road and making sure they don't go out when they're in no condition to do so. Mechanics may also take care of other kinds of equipment on trucks, like towing components or doors on trailers.
Some common tasks include:


Repairing brake systems

Inspecting and diagnosing issues with the engine

Addressing problems with the steering system

Replacing or repairing electrical systems
The skills you'll need to be a mechanic include:
Technical knowledge about diesel engines

Technical knowledge about hydraulic systems

Technical knowledge about truck systems and electronics
You should also feel comfortable with troubleshooting and problem solving.
Mechanics normally need a high school diploma in addition to an associate's degree in automotive technology (or a similar field). However, there are some vocational programs offered through high schools that may help people qualify for this role.
Mechanics may need to hold an ASE as well as a state vehicle inspection license to be eligible for the role.


What Is a Safety Manager's Job?
Keeping everyone safe is a priority in the trucking industry. It's also the role of an important individual: the safety manager.
Safety managers keep companies and individuals in line with safety regulations, both statewide and federal. They also develop procedures and safety policies, making sure that drivers get the right safety training before they're out on the roads. Safety training also applies to other staff members, too, such as mechanics and freight brokers, who may work around large vehicles and heavy loads or equipment.
To become a safety manager, you need to be knowledgeable about safety regulations. You have to analyze data and identify trends, and you also need great communication skills.
Safety managers are required to have specific skills and knowledge. Most have a minimum of a bachelor's degree in safety management, environmental health, or a related field. They must be familiar with the standards in the industry, such as knowledge about Occupational Safety and Health Administration standards.
Other Jobs in the Trucking Industry
While the jobs above are some of the more common jobs in the trucking industry, there are many others that need to be filled. Others may include roles such as:
Freight coordinators

: Logistical experts responsible for scheduling and managing shipments

Sales representatives: Individuals responsible for finding clients and making sales.

Marketing personnel: Individuals working to market the company, its routes, and its products to bring in new leads and, potentially, new customers.

Accountants: Individuals responsible for managing all money-related transactions, such as payroll or billing.




As you can see, there are many jobs available in this industry. So, whether you've decided driving isn't right for you or you just want to get a feel for what else the industry has to offer, these are several positions you may want to consider.


Find Your Non-Driving Job at Pride
No matter what kind of role you want to work in, we have something that could suit your career path. Visit our non-driving jobs page to learn more about the opportunities we have open today at Pride Transport. We're here to answer your questions and are waiting to get to know you.