Our Favorite Funny Mud Flaps and Truck Accessories
by Pride Transport | Sep 26, 2022
Just as someone with a desk or office would add some personal touches and fun to their space, truck drivers have the unique opportunity to outfit their vehicles with things they enjoy. Whether your decor choices are intended to show your personality, keep you comfortable, or bring a bit of home along for the ride, we love seeing how drivers choose to accessorize their trucks!
Mud flaps are likely the most visible accessory that truck drivers can add to their rig. But where did mud flaps come from, anyway? Like any good innovation, they came straight from the user; a truck driver, of course! While there were likely plenty of drivers figuring out solutions to minimizing debris from tires, there's one inventive individual that usually gets the credit for mud flaps.
Oscar March, a truck driver at Tinker Air Force Base in Oklahoma City during WWII, built brackets to attach to the undercarriage of his truck behind each wheel. He attached a large rectangle of heavy canvas to each bracket in an effort to reduce the volume of rocks, mud, and other messes that truck tires kicked up as they drove around the air force base. The idea came to Mr. March because the trucks they were driving had open beds and the items and equipment they were transporting were at risk of being damaged by the mess kicked up from the tires.
Mr. March's mud flaps worked really well; they became a standard requirement for all the trucks at the base. The idea spread to other bases and eventually civilian drivers. The bonus of mud flaps is that they provide a large, visible surface to also share a little humor. We've gathered up some of our favorite (and family-friendly) mud flaps and stickers for some rig inspiration.
Funny DIY Mud Flaps
Just as the first mud flaps were a do-it-yourself experiment, there are still some out there building and decorating their own. Although some people take it a little more seriously than others…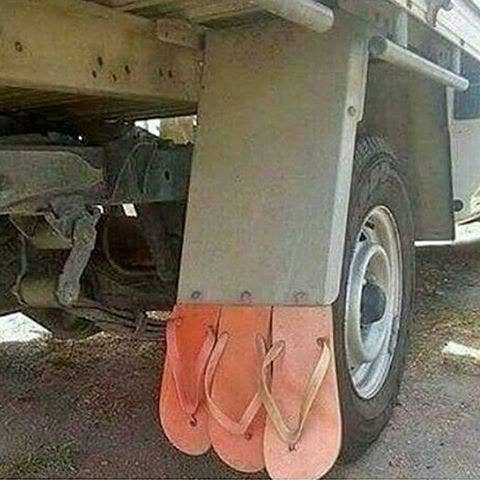 We aren't sure if these are the world's largest flip flops or not, but they've got to be in the running! If your mud flaps aren't quite making the grade, then adding some "flip flaps" might be just the thing. We imagine it's especially handy if you've got some mismatched old flip flops around. Just make sure they're securely attached!
If you're not feeling crafty, you can always get some fun, custom mud flaps made-to-order.


With the option to choose your own image or wording, the sky's the limit for the fun you can have designing these custom mud flaps.
Funny Driving Advice from Mud Flaps
Communication with other drivers on the road can be limited, so some truck drivers use their mud flaps as a chance to provide helpful reminders to those sharing the road with them. Turn signals and passing lanes seem to be particularly popular topics, with funny (but also totally serious) cues for other drivers.
First up? Turn signals! Not only is this a key way truck drivers communicate with other drivers; it's highly recommended that ALL drivers use their turning signals, too. Just in case you don't remember what that blinking light means, this truck driver is here to remind you of this extremely important lesson in driving.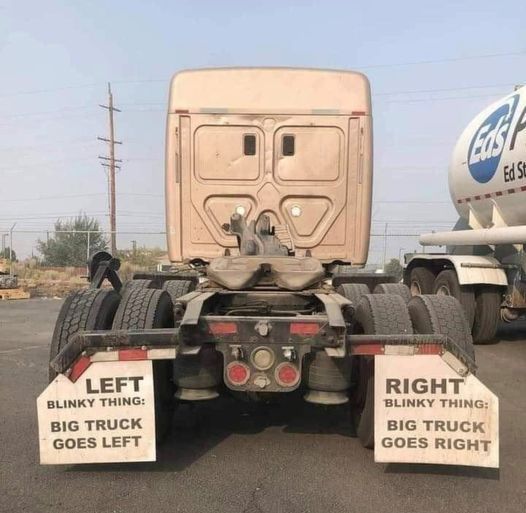 Road etiquette is also important to keep everyone safe on the road. This truck driver found a humorous way to remind others which side is safe for passing and which side isn't a great choice.


This truck driver put a 2-for-1 message on their mud flaps, reminding others that driving too slowly in the fast lanes is also a bad idea…as is driving while on your phone. We can all use a reminder of that!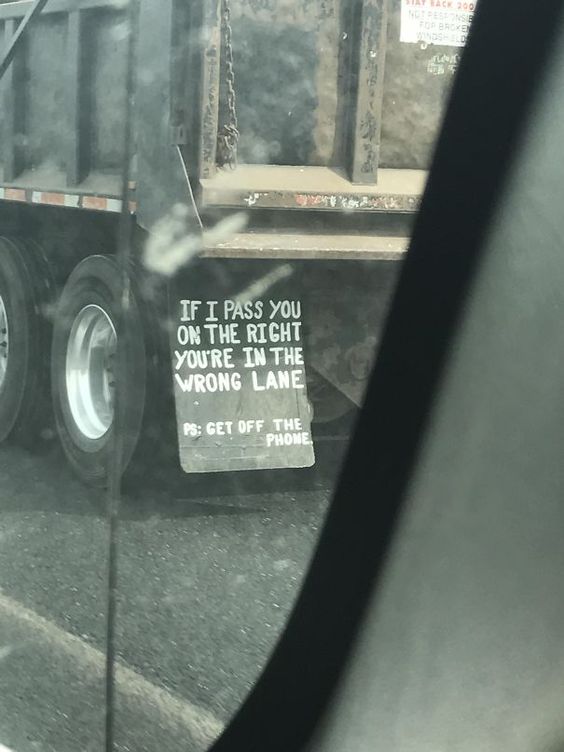 Tailgating is also a dangerous habit on the road. These mud flaps use a familiar face to remind you to keep some distance between you and semi trucks. (We can't help but read it in Yosemite Sam's classic voice!)
Have some fun, show some personality, and keep everyone safer on the road? Sounds like a win to us!
Funny and Clever Bumper Stickers for Truck Drivers
Bumper stickers can bring some fun and humor to any vehicle, but no one has quite as much space to fit in favorite slogans as truck drivers. If your bumper is looking a little lonely, try one of these fun stickers.
If you got it…a trucker brought it! That's the truth! The last few years have shown us just how critical truck drivers are in keeping our economy up and running, and this sticker celebrates that.



You can't have a truck without a good "how I roll" joke!

If you're a dog lover then this sticker might be just the bit of truck humor you need…

Clever yet simple, this sticker will remind everyone that truck drivers are, in fact, a very big (rig) deal.

This sticker is also a fun nod to the fact that "yield to mass" is a very real law of physics on the road!
For the awesome truck driving women in our midst (we see you and we support you!), there's this great bumper sticker. It takes an amazing woman to drive a semi truck!


We're all about our truck drivers having fun and feeling supported on the road. Whether it's finding a safe spot to park, avoiding common trucker injuries through exercise and ergonomic accessories, or preventing mental strain that puts drivers at risk, Pride Transport works to help support and educate our drivers. Laughs and funny mud flaps aside, we know that safety and health are always the first priority!
Check out these other resources for truck drivers:


The Best Truck Stops in America – The best places to fuel up for you and your truck.
Staying Fit on the Road – How to exercise as a truck driver.
How Meditation Promotes Mindful Driving – Improve your focus and your mental health.
Ready to pick out mud flaps and bumper stickers for your own rig? Learn more about driving with Pride Transport.