Solo Driving: Is It Right for You?
by Pride Transport | Mar 24, 2023
As you start your career as a truck driver, you have one important decision to make: Will you drive on your own as a solo driver, or will you pair up with someone else as a team? Just like it sounds, solo drivers complete their trips alone, while team drivers get help from at least one other person. There are benefits to both types of driving, which is why it's important to be informed before you decide how you want to move forward.

What Is the Difference Between Solo and Team Driving?
The main difference between solo and team driving is that you have to travel alone when you drive solo. (Pretty transparently named, huh?) Team drivers usually travel together in pairs of two or even with two or three other drivers and switch out throughout the trip. Instead of stopping to rest, sleep, eat, or take care of other necessities, teams can keep the truck moving at almost all times. On the other hand, solo drivers do need to stop to fulfill federal Hours of Service requirements and meet federal regulations.
Team drivers are almost always going to be over-the-road drivers, which means they travel longer distances. Solo drivers may stay local or travel long distances, depending on their preferences.
Additionally, there are some differences in how you're paid. The carrier wage is split between team drivers, but solo drivers are paid per mile exactly what they were offered — they don't have to split anything.
Generally speaking, team drivers tend to be paid more per mile. Since they can go longer distances without stopping, they may earn more than a solo driver. For a more in depth example of how team driver pay works read: Team vs Solo Driving.
Team drivers are often offered sign-on bonuses, but solo drivers may be offered these types of bonuses as well.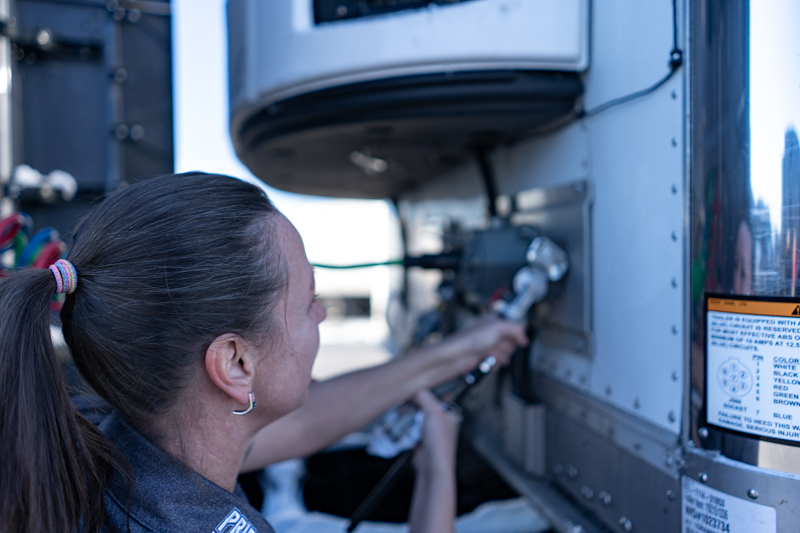 The Benefits of Solo Driving
Now that you know the main differences between solo and team driving, think about the benefits of driving solo.


You Get to Be Alone and Have Privacy
One perk of being a solo driver is the privacy it gives you. You'll be driving alone, which means you don't have to worry about someone else being in your space. You don't need to think about how to store the items you want to bring with you while making space for another person. If you prefer quiet time alone and don't enjoy having someone there who chats with you at all hours, then being a solo driver might be the right choice for you.

You Can Listen to Your Own Music
Team members don't always agree on the kinds of music to listen to on a long haul. For music lovers, solo driving creates a great opportunity to listen to all the music you love without having to wonder if your team member wants to listen to it, too. Listen to anything you want, whether it's rock, pop, metal, or country.
Consider, too, that if you ride in a team, you may have to keep the music down for the person in the sleeper berth. If you would prefer not to worry about disturbing someone else's sleep (or vice-versa), solo driving may be right for you.

You Make All the Decisions
Another perk of being a solo driver is that you get to make all the decisions. Do you want to listen to the radio? Are you interested in stopping to get something to eat at the next exit? Would you like to take a break for the next half hour? All of these decisions are in your hands as a solo driver. From choosing when to eat to deciding when it's time to stop driving for the day, you stay in control.

You Won't Have to Argue
Team drivers are together for many days or weeks at a time. Some will travel for five or six weeks before returning home for a break, while others work only a few weeks at a time before resting at home. Being in close proximity for days on end means that even the best teams argue from time to time.
If you want to avoid all the drama, solo driving may be right for you. There's no reason to argue when you have no one else there with you; you'll make the decisions each day and get to work the way you want to without having to think about someone else's preferences.

You Don't Have to Rely on Another Person's Schedule
When you're paired up with someone, you and the other driver need to consider each other's schedules. Do both of you prefer to sleep at the same time each night? What is your eating schedule like, and are you (or they) happy to adjust to another person's preferences? On top of those minor scheduling differences, you'll also have to make sure you get the right balance of driving hours to stay in compliance with federal law.

You're in Control of Your Work
The final benefit of being a solo driver is that you are in control of your work. You can choose your routes, determine which loads you take, and essentially be in control of your career without the influence or interference of a team member. You won't have someone pushing you to go a route you're not comfortable with, and you won't have to deal with someone taking loads that you don't want to deliver.
These are just some of the perks of being a solo driver. If you're a person who enjoys being on your own or in control of your own work, then this could be the right choice for you. There are downsides, such as having to stop for several hours a day to fulfill the federal Hours of Service regulations or being less able to take long-distance hauls due to time limitations or deadlines. Still, there are routes that can work for you and good reasons to try solo driving if you have the personality for it.


Drive Solo With Pride
At Pride, we respect the differences between our drivers. We work with solo drivers and teams who transport goods all over the country. If you're interested in becoming a solo driver, take a look at our jobs and the pay you can expect. We pay up to .75 per mile for solo drivers and offer guaranteed detention pay with other perks like mileage bonuses, fuel bonuses, and more. Check out all the benefits on our website and apply now.