Making Safety a Priority in Overnight Semi Truck Parking
by Pride Transport | May 18, 2022
In March 2009, a trucker named Jason Rivenburg elected to pick up an extra load to help out a friend. Everything was going well and Jason was ahead of schedule, but that presented a problem: Jason's delivery site wouldn't allow trucks to enter the delivery site more than 60 minutes before the delivery time, so he needed to find a safe place to park, rest, and wait for his delivery window.
A fellow driver had recently parked at an abandoned gas station in that area, so Jason decided to do the same thing. While he was settling in, he was robbed by a man who came over from the other side of the highway. That man, Willie Pelzer, broke into Jason's cab and killed him — taking only the $7.00 in Jason's pocket.
Jason's wife worked hard for years to eventually pass Jason's Law, which authorized funding for safe truck parking facilities. When the law was passed, a joint press release cited the importance of truckers to our lives and economy:
"Truck drivers work tirelessly every day to keep New York's businesses running. At the very least, they deserve to be safe while doing so, Jason's Law enables states to improve parking for truck drivers so that when these hard-working individuals stop to rest, they are safer and better protected. Jason Rivenburg was killed in a senseless act of violence. This legislation honors Jason's memory and will help prevent this type of horrific tragedy from happening again."
While there is certainly more safe parking available for truckers today, it can still be a struggle to find a spot. It's easy to see why safe parking is important. Here are some tips to help you find your way to a safe stop.
Finding Safe Semi Parking
What makes a safe overnight parking spot? Lighting, surveillance, and enough space for access are all critical aspects to staying safe when you park overnight. However, those requirements can be hard to meet.
Parking options for truckers include truck stops, at the shipper or receiver (ask in advance if this is possible), or large retail parking lots. To reduce parking stress, we recommend doing some homework:
Have a plan.

Knowing your route gives you the chance to research truck stops along the way, or research other options. Some truck stops will let you reserve an overnight spot days in advance, so planning ahead can make overnight parking a lot easier.

Stop sooner than later.

It's always harder to find overnight parking spots between 4 and 11 PM. If you can arrive at your overnight spot a little earlier in the day, you'll have a better chance of finding a good spot.

Pay attention to lighting.

A well-lit area will be less likely to be vandalized or burglarized. If you can't find a truck stop, try to find other areas that are lit and have video surveillance.

Have space to park well.

Parking a large semi truck requires adequate space, whatever maneuver you're planning to use. Make sure you've got the space you need to get in and out, accommodating other vehicles that may arrive before you're ready to leave.
If you want to park at a retail space it can be helpful to politely ask a manager in advance.
Safe Semi Truck Parking in Utah
The Utah Department of Transportation knows finding parking is important to truckers. Utah is a crossroads for Interstates 15, 70, 80 and 84, due to this the state sees a significant number of truckers; for example, on peak traffic days approximately 8,000 semi trucks travel through the St. George Port of Entry.
To help truckers locate safe parking, UDOT has developed the Utah Truck Parking Guide. The guide includes information for truckers who need to park along the major interstates, illustrating:
The number of truck parking spaces

Diesel fuel availability

Restaurants

Fast food

Showers
This is a great resource for drivers to find safe stopping points, helping them plan trips and know where to call to try to reserve overnight parking spots for their drives.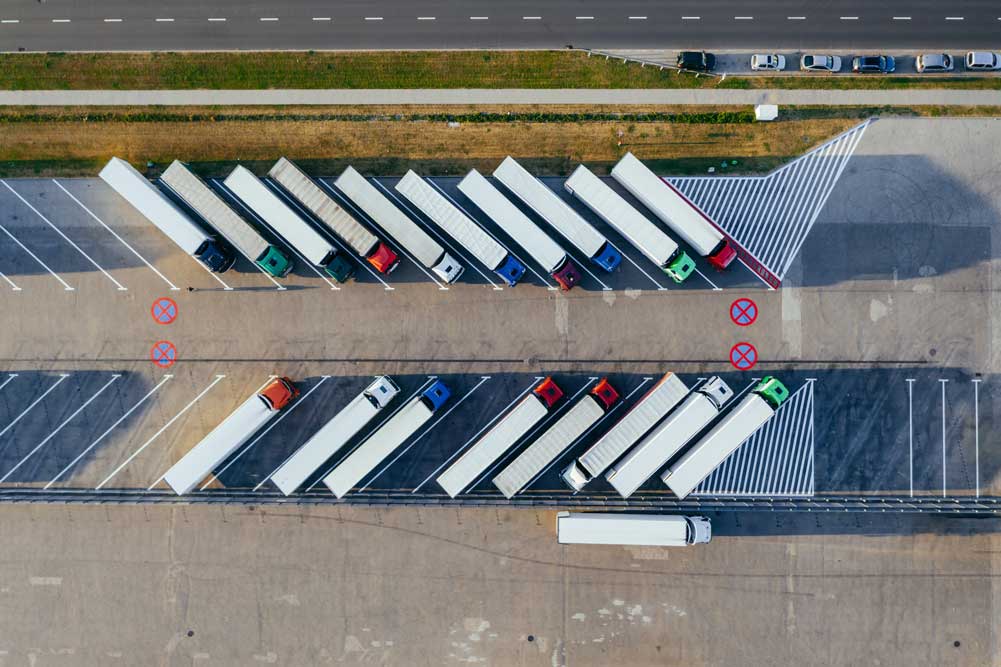 Apps to Help Truck Drivers Find Safe Parking
There are some great apps available to help truck drivers find safe semi parking. Check out our list of the best apps for truckers to see which ones can help you find (and even reserve) an overnight parking spot. Some apps to consider for safe overnight parking help:
Maintaining truck driver safety is a major part of the culture at Pride Transportation. Learn more about how you can join our team and hit the road.