The Benefits of Being a Company Truck Driver
by Pride Transport | Jan 06, 2023
There's a lot of potential for things to take a turn — both good and bad — in truck driving. Some days you're hitting your mileage just right, every delivery is easy, and the weather is beautiful. But then there are days where traffic is slow or you make a wrong turn, and you suddenly have to figure out what you're going to do.
While there will always be an element of unpredictability in a career like truck driving, you can cut down on the uncertainty by landing a driving position with a company. In fact, driving for a company has many perks that can contribute to a fulfilling career.
The Company Has You Covered
Driving for a company is about more than receiving a salary, because you can get paid at any job. (But we will talk more about steady income in a minute!) It's the other benefits you need to think about when deciding whether working for a company or as an independent driver makes sense.
Health insurance is a major consideration. You can purchase individual plans, but they often carry higher premiums than being part of a group plan. Drivers with families must also consider their family's health: does someone have a condition that requires vision, dental, or other types of supplemental insurance? What about life insurance? While you may not need all of these options, it's comforting to know they're available through your company if you do eventually need them.
It helps to look at an actual company's benefits packages to begin thinking about what you need or want outside. (Take a look at Pride's benefit page to get started.) What kind of time, training, and experience would it take to afford what they're offering on your own? You can also check out career pages to see if there's room for advancement as a company driver. Knowing that you can move into other driving opportunities within the same company offers peace of mind.
Job Stability in Uncertain Times
Today, job security is the most important aspect of work. A comfortable and safe workplace, competitive salary, and healthy company culture are important, too, but actually having a job you can return to every day is the top priority for many people. Driving for a company offers the stability people want today and can also help them plan for the future.
People new to the industry especially benefit from company life because you can earn a living while getting used to the lifestyle, learning tricks of the trade, developing a professional network, and seeing how the industry evolves. Life on the road helps drivers learn if they value equal time at work and at home, or if they prefer the long trips OTR drivers take. They can find the balance of hours and miles that works for their relationships and overall health without worrying about securing their own driving gigs.
This isn't necessarily the case for independent contractors or owner-operators. Some might argue that being your own boss is its own kind of job security, and for the right person, that's true. But there's a lot more to running a business than delivering freight where it needs to be.
Your Built-in Support Team
Non-company drivers essentially have to view themselves as small business owners who are responsible for every aspect of the business, both driving- and office-related.
As a non-company driver, any money you bring in goes toward business expenses before anything hits your personal bank account. You're also responsible for marketing the business, securing routes, and making sure you're compliant with all safety and Department of Transportation regulations. You'll also need to know all of the necessary federal and state laws and acquire the correct permits.
Proper bookkeeping is extremely important, and in the trucking industry you need to budget for:
Fuel

Tolls

Additional licenses

Permits

Training

Insurance

Maintenance and repairs



People who aren't equipped to handle these tasks will need to hire help. Very suddenly, drivers unattached to a company can become responsible for advertising positions, marketing the business, following appropriate hiring practices, and developing business operations. That's all on top of actually driving a truck!
Being part of a team relieves drivers of the stress and pressure that come with going it alone. Some people really do need to control every aspect of their career, but the perks of having a home base and a team of co-workers (even if they're not on the road with you) offers a sense of connection you don't necessarily get as a non-company driver. Company drivers can rely on their dispatchers for help with routes, mechanics and maintenance teams for safety reassurance, and other drivers if they decide to team drive.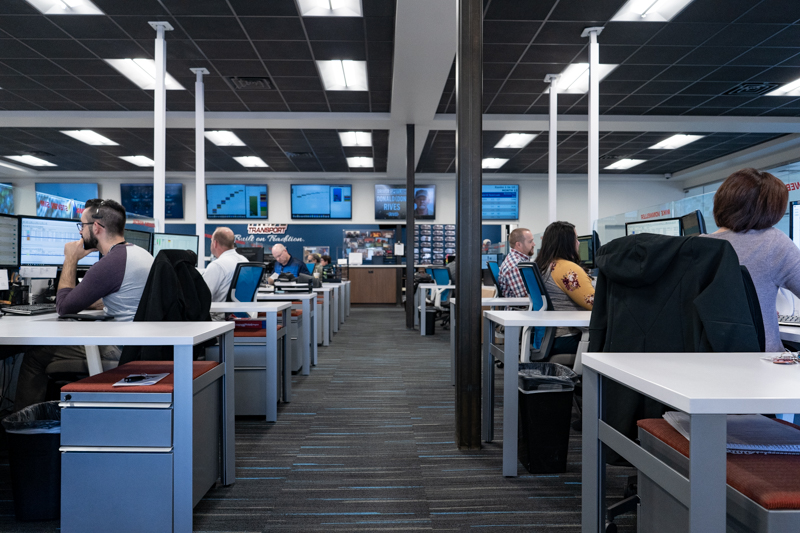 Competitive Pay and Raises
The reassurance of regular pay takes the financial pressure off of company drivers, too. Driving for a company that offers a competitive CPM, bonus opportunities, and a 401K option means you can support yourself and whoever counts on you, even when things don't go as planned.
Breakdowns happen, and wait times can be unpredictable. Drivers sometimes wait for hours before a spot opens up and they can unload their freight and resume their route. Some companies take these non-controllable situations into account and offer minimum weekly pay to cover this lost time. Non-company drivers need to plan (logistically and financially) for unexpected snags when setting their driving schedules.
People considering a non-company driving position also need to purchase their own equipment and pay for required maintenance and repairs. Leasing a truck can be expensive, and there's no guarantee of paying it off in a timely manner. You're responsible for booking loads in the owner-operator model. Can you guarantee that there are always plenty of routes available? If not, you need to consider how you'll cover both business and personal expenses without a steady income.
It's important for people to have a sense of stability in life. While we can't guarantee that every day will be smooth sailing (an impossible feat!), there's comfort in knowing you can rely on your company for the essentials every day. Learn more about driving with Pride and our team today.