5 Reasons Why You Should Drive With Pride Transport
by Pride Transport | Feb 05, 2021

Change. Some people fear and yet, for some, a change is just what the doctor ordered. This could be a change in attitude, a change in lifestyle or, a change in job. It could be a small change, or it could be a monumental change that redirects the entire trajectory of your life. Why not? A little controlled chaos now and then is supposed to be good for the heart, mind, and soul.
If you've been wandering around in a bit of a haze, unhappy with what your life is bringing you, perhaps a change of scenery in the way of a new job is in the offing for you right now. Maybe this is the time for bold change and a new outlook on life. Perhaps this is the day you finally grab that dream of the open road, being independent, and driving a truck. Maybe this year, you join the thousands of men and women who keep this country supplied and moving every day.
Maybe this year, you step back, take it all in and say with pride, "Me? I'm a truck driver."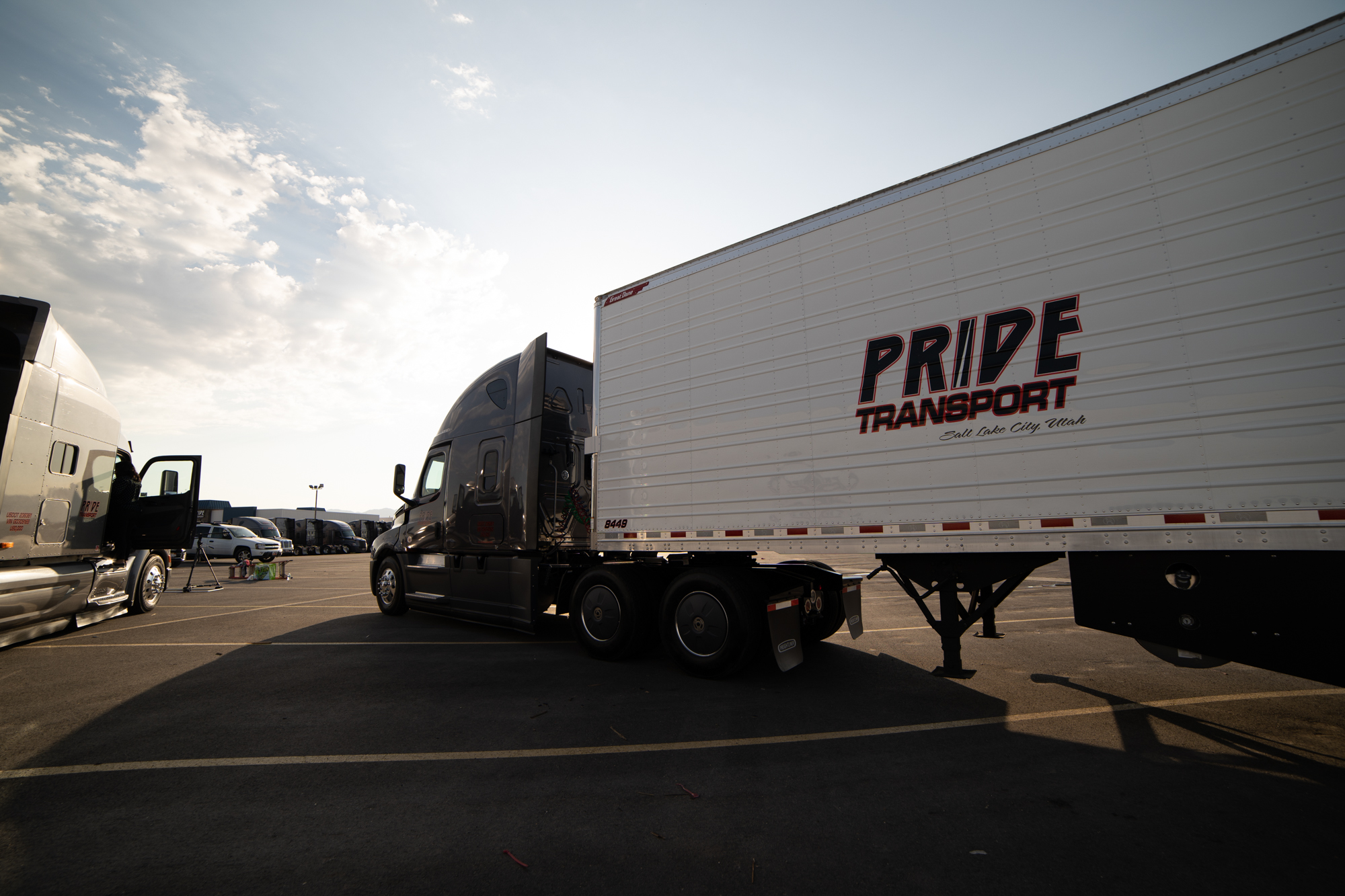 5 Reasons to Drive With Pride
If you've decided to shake things up and change jobs or if you've been driving for a while and just don't feel you're getting the best experience as a driver, then now is the time to take a good, long look at Pride Transport.
All trucking companies are NOT the same, and thinking that they are could get you locked into a contract that leaves you frustrated and unhappy. For experienced drivers, hearing what Pride has to offer will be like an empty highway with smokey's all off drinking coffee far away. Those who are thinking about starting a new career and understanding what Pride is all about will wonder why you didn't make this change sooner. It's okay; there's no time like a present and no present you can give yourself that's more valuable than a new, high paying career with perks and pluses up the wazoo.
Pride: Definition: A feeling of deep pleasure or satisfaction derived from one's own achievements, the achievements of those with whom one is closely associated.
That pretty much sums up what driving for Pride is all about. So, if this is the year you spend feeling deeply satisfied with life and work, then this is the year to drive with Pride.
Not convinced? Okay, here are just five random reasons that you should be driving with Pride.
It's All About The Drivers
Pride states time and time again, "our drivers are our pride? And they mean it. They genuinely care about their drivers.
Pride is run by a family of drivers. The owners are drivers, so if you're looking for stakeholders hiding behind their advertising, you're not going to find them. You will find a family operation centered on drivers who speak the truth and shoot you straight. And, the owners still get behind the wheel and drive.
Why does this matter? Well, when driving for a company that is full of bureaucracy, you're dealing with people who don't understand the job and how it impacts your life. They have a goal, and they don't honestly care about the ones who help them achieve that goal.
With Pride, you're working for people who have been in the driver's seat. People who have hauled loads across the country, over rough terrain, through all kinds of weather conditions. You're a driver talking to people who speak your language, understand your life, and know what it takes to be a good driver. With Pride, you're working with people who would never ask you to do something they themselves haven't already done.
For over forty years, Pride has been focused and centered around its drivers. Because of that, they respect and understand drivers better than anyone else in the business.
Trucks, fully loaded and well maintained
As a professional driver, you spend a lot of time in your truck. Wouldn't it be better to spend that time in a nice truck, with amenities? A place that you look forward to getting to and not one that you just cannot wait to get out of?
Yes, yes, it would.
Number two on our you should be driving with Pride list is the trucks, trucks that you'll be happy to climb into and go. Trucks that not only look good but are well maintained by a dedicated crew of technicians. They work hard to keep the trucks in perfect working order, so drivers always feel safe.
But a good looking truck on the outside might be covering up for not so good things inside. That may be true with other trucking companies, but not so with Pride.
Pride has a good-looking, well-maintained, fleet of trucks that are packed with amenities to keep you feeling at home in your home-away-from-home.
All Pride trucks come with; refrigerator, satellite radio, 2000-watt inverter, optimized idle and available on request, fully installed DirecTV.
And the trucks themselves are top of the line. Pride's fleet average age is 23 months. And they are great trucks. We're talking;
FREIGHTLINER CASCADIA NEXT GEN
Trucking down to a science means attention to every detail. That's what makes the new Cascadia a best-in-class leader.
FREIGHTLINER CASCADIA EVOLUTION
This truck sets the industry benchmark for long-haul applications that demand the highest level of fuel efficiency.
PETERBILT 579
The increase in efficiency and the reduction in overall tractor weight are a testament to the focus on maximizing user experience.
This is serious equipment that is a pleasure to drive. Pride has the finest equipment on the road, running both automatic and manual transmissions.
Pay
It would be easy for a company to fill your ears with promises of a good life or fill your eyeballs with pictures of the road and beautiful trucks, but, for most people, the bottom line is money, cheddah, simoleons. A good job means a good-paying job. And, when it comes to fair pay, Pride is at the top of the game.
As of December 1, 2020, Pride increased their per mile pay by .04 cents per mile. This means that solo drivers can make up to .65 cents per mile. That's better than most.
On top of that, Pride has announced a sign-on bonus of $10,000 to be paid out weekly. A large bonus, .65 cents per mile, are pretty great incentives, yet there's more.
Pride also pays; mileage bonus, fuel bonus, stop pay, layover pay, and breakdown pay. That's not even mentioning the paid holidays and paid vacation.
Pride drivers do very well when it comes to pay, so apply online at pridetransport.com and see how great pay and benefits can change your life.

Benefits
You may be thinking, well, if the pay is so good, there has to be a compromise somewhere. And that compromise is probably with the benefits package Pride offers. Nope, that's not true.
We all know that we're willing to compromise a little bit on our pay if there are incentives that go along with it. One major incentive most people look for is a good benefits package. At Pride, drivers get great pay and, wait for it, great benefits.
First off, health and dental. They are offering plans through United Healthcare, a nationwide provider of high-quality healthcare from HMOs to PPOs. To make sure it is affordable for all, Pride pays 70% of the individual healthcare plan for all full-time eligible employees.
As for dental, Pride uses the nationwide provider Delta Dental and they pay 95% for individual coverage of full-time eligible employees.
Pride also offers supplemental insurance and very low rates for extra coverage, which is also available for spouses and children.
You also have supplemental financial protection on offer, which covers disability, accident, and critical care insurance.
And then, there is life insurance. If you drive with Pride, full-time employees receive a life insurance policy on their eligibility date, which covers $25,000 for the employee, $5,000 for the spouse, and $2,000 for each dependent child. Pride pays the life insurance premiums for the basic life policy. Life insurance is through LifeMap.
There's no compromise here, just great benefits for great drivers.
Then there is retirement. Pride Transport offers a 401k to full-time eligible employees. Pride wants to help ensure that its dedicated employees are able to retire comfortably, therefore, the current discretionary employer match is 20% of your contribution. That's right. 20%.
Family & Charity Opportunities
This isn't just a marketing ploy, Pride is a family-run business, and when you work for them, you are part of the family.
Founded and operated by a family of drivers for over 40 years, you will be welcomed into the family and be treated like family by everyone who works with Pride. People look out for each other, they care about each other, and when the going gets tough, you can always look to the Pride family for help, understanding, guidance, and support. No one knows you better than family, and you can feel that sort of welcome and acceptance when you drive with Pride.
Pride has a very open-door policy. Kind of a first name basis situation, and everyone knows each other's name. They understand that the folks working for Pride spend a lot of time together, so they go out of their way to make that time enjoyable and productive.
As part of the family culture, Pride loves any reason to celebrate its employees. They keep that culture string with BBQs, holiday celebrations, driver appreciation week events, and they often surprise employees with goodies brought to your desk or the driver's lounge. These are often delivered by the President and the CEO.
And, as a family, Pride loves to give back and give help to the community they so cherish. As part of the family, you get to participate and feel good about sharing in their charity work. You have the opportunity to share in the charities Pride supports through payroll deductions or the many volunteering opportunities Pride organizes..
Pride is closely associated with Primary Children's Hospital, The Salt Lake Truck Show, the Utah Foodbank, Truckers Against Trafficking, and Operation Underground Railroad. Not only does Pride look after its own family, but it works hard to support the community of families where they work and live. As a Pride driver, that's part of your family too.
There you have it, five reasons why driving with Pride might be the answer for you in the new year. A change of scenery, a change of life, and a chance to give to the community and the world around you. It might feel good to be a part of something bigger than yourself and see the world from the cab of a truck.
Truck drivers do a lot to keep this country moving; why not join them and see what life feels like from the cab of a Pride truck. For more information, visit https://www.pridetransport.com/ and see what your future holds.

We have curated all of our best tips about getting behind the wheel here!
Now Hiring OTR drivers. Call 1-800-GO-PRIDE and talk to a recruiter today.