What Does the Inside of a Semi-Truck Look Like?
by Pride Transport | Mar 10, 2022
If you've been considering a truck driving career, you may be wondering what the inside of a semi-truck looks like. It's an understandable curiosity! If you'll be spending quite a bit of time in a semi, it's natural to want a rundown of its features.
Most trucks have a similar look inside, but it can vary depending on the vehicle's year, make, and model. One of the biggest differences in appearance depends on whether the truck has a sleeper cabin. These trucks are designed for on-the-road overnight sleep. On the other hand, trucks without a sleeper cabin are known as a "conventional day cab." These trucks are designed for day trips and don't typically include overnight sleeping features.
Whether you're planning to drive overnight hauls or only do day trips, it's helpful to get a picture of what the inside of a truck looks like. Here's an overview:
Front of the Truck: Driver and Passenger Sides
On the driver's side of the front of the truck, there's the steering wheel, different gauges, and an overhead compartment for storage. If you wear prescription or reading glasses or like to keep sunglasses handy, the over-seat area is a convenient location to store them since it's within your reach while driving. Right behind the driver's seat you may find additional storage area along with a slide-out desk.
Somewhat obviously, across from the driver, there's the passenger's side. In between the driver's and passenger's sides include the brakes, radio, heater controls, outlets, and cup holders. On the passenger side, there's space to mount the CB radio and more overhead compartments for storage. Behind the passenger seat, there's usually additional storage space.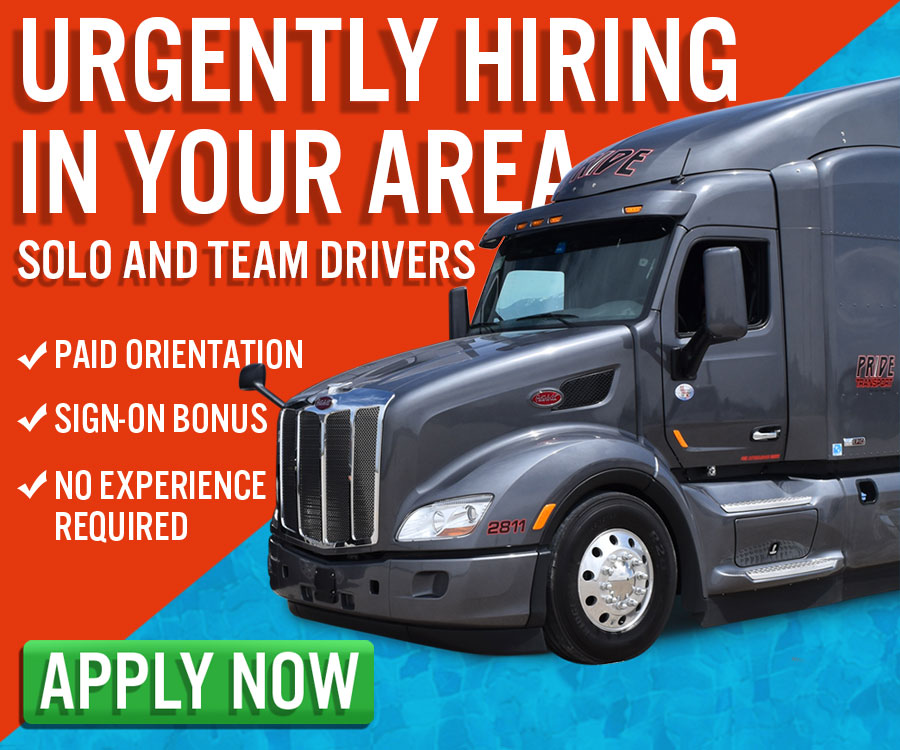 Back Bunk Area and Sleeping Section
The back bunk area typically includes an upper bunk with a ladder, windows, vents, heating and cooling controls, a 12-volt plug-in, reading light, and the sleeper cab. And although storage space may be limited inside a semi-truck simply due to its size, most sleeper cabs have lots of compartments where you can store personal items such as clothes, entertainment items, food, drinks, kitchen items, and toiletries. If you'd like to learn more about what items are stored inside a semi truck read our blog Essential Gear for an OTR Truck Driver.
Some sleeper cabs come with thick black-out curtains that prevent sunlight from coming through so you can have a better sleep, no matter the time of day. A good night's sleep is essential to having good physical health. After a long day on the road, you'll want to rest and recharge.
So what exactly does a sleeper cab look like? It is worth noting that all Pride Transport drivers receive a new mattress when they are assigned a truck. Top-of-the-line trucks like the new Freightliner Cascadia even come with a driver's lounge. The sleeper area in these new models includes a larger driver and passenger-side storage cabinets and even a wardrobe cabinet. For entertainment, the new Cascadia features a TV swivel bracket that can hold a 26" flat-screen TV for theater-like viewing.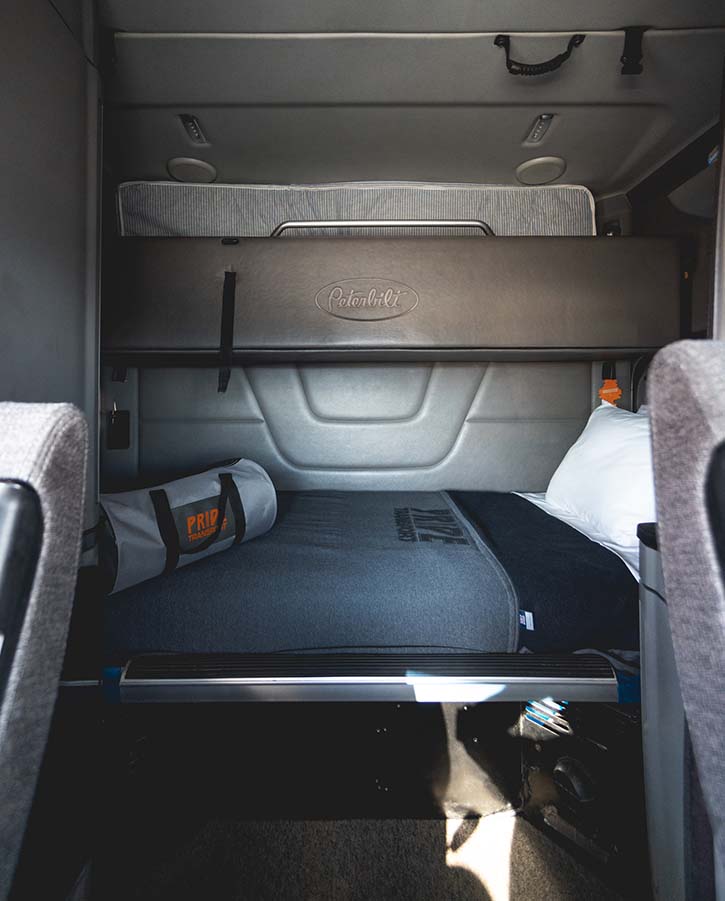 Kitchen Area
If you want to save money and eat healthy meals, it's nice to cook while you're on the road. Some semi-trucks come with a kitchen area that may include things like a refrigerator, microwave, stove, sink, and built-in storage for use as a pantry. Some trucker drivers place their fridge on top of wood blocks to create even more storage underneath. All Pride trucks come equipped with a refrigerator.
Other useful cooking appliances include a portable slow cooker, frying pan, electric skillet, blender, and a coffee maker such as an AeroPress. Of course, don't forget to bring a set of cooking utensils! There are some great kitchen travel sets that come with portable flatware. With a little planning, drivers can easily cook-up a nice, healthy meal while on the road.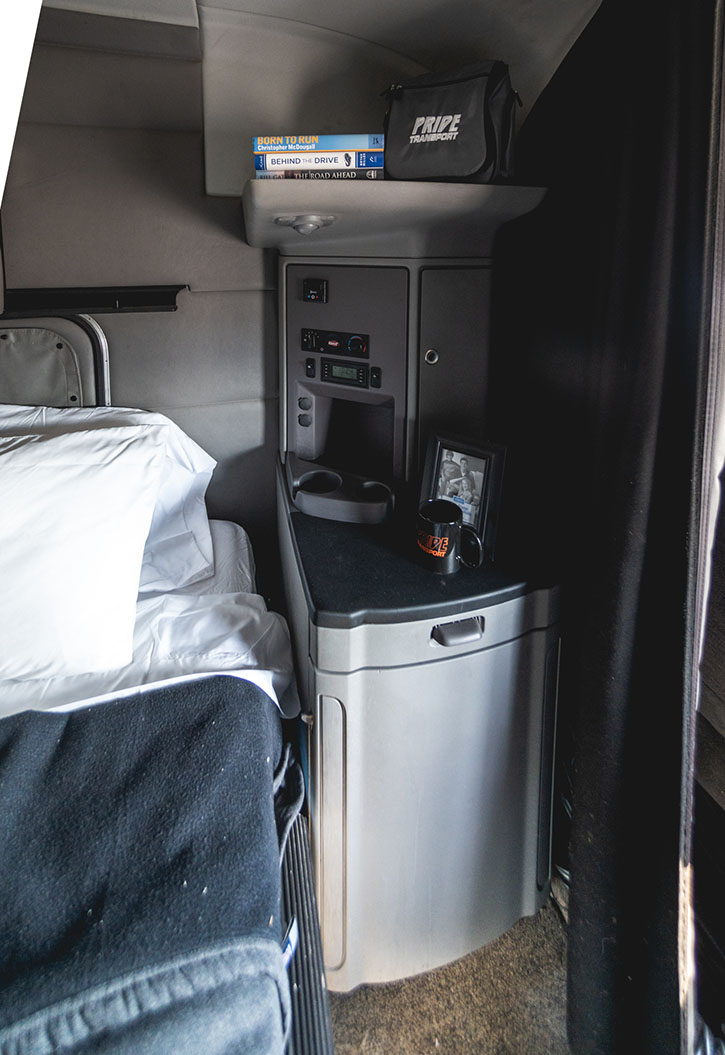 Electricity in a Semi, Charging Up Your Devices
While on the road, you'll want to power up and charge your electrical devices. Keep extra cables and charging blocks ready for your cell phone, tablet, or computer, and consider what cords or batteries you might need to power up your cooking equipment and toothbrush. Some cool options for charging on-the-go are portable solar-powered energy output stations, diesel-powered auxiliary power units (APU), inverter, or portable chargers.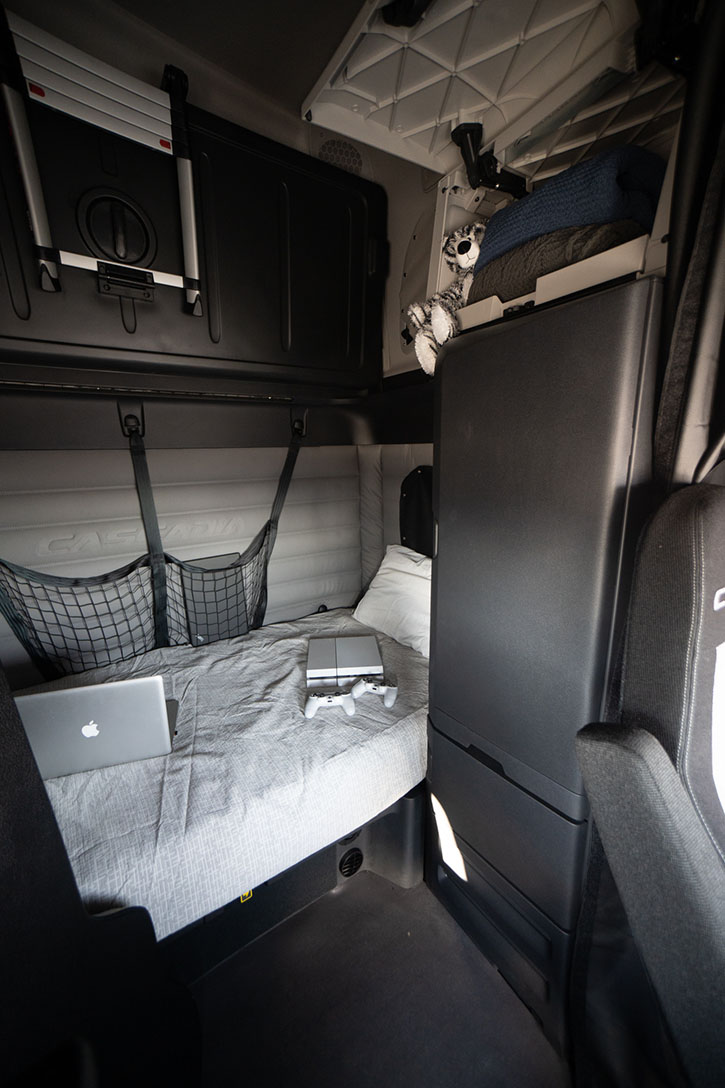 Personalize Your Space
Drivers spend a lot of time on the road so it's nice to add some personal touches to your semi-truck. Some drivers like to personalize their sleeper cabs to fit their own personal preferences. You can personalize the space by adding your favorite bed sheets, bringing picture frames, or throwing down a cozy rug.
You might consider hanging a lightweight mirror in the truck so you can see what you look like as you're getting dressed. As the saying goes, first impressions are important, and drivers will likely have to talk to people while on the road. Even if your company doesn't require a uniform, most have some sort of dress code employees must follow. Take pride in how you look and make sure your clothes look presentable.
Another way to personalize your truck by hooking up a smart speaker like the Amazon Echo so you can use your voice to control your music. While driving, you can use this hands-free feature to change songs on the road.
Pride provides our drivers with the safest, best-looking, and best-equipped trucks on the road. We have both automatic and manual transmission trucks and our fleet average age is 23 months. All Pride trucks come equipped with a refrigerator, satellite radio, optimized idle, and a 2000-watt inverter available. In addition to comfortable quarters and top pay, we also offer the one of best benefits packages in the business. If you're considering a career in truck driving, check out some of our available CDL job openings today.