The Complete Evolution of The Pride Truck
by Pride Transport | Apr 12, 2021
Founded and run by a family of drivers, Pride Transport has been on the road for close to 40 years. In that time we've seen trucking grow, change, and turn into the massive industry it is today. From federal boosts to new technology feats, the trucking industry has certainly seen some major shifts, and possibly none bigger than the trucks themselves.
From the small motor-wagons of the late 1800's to the sleek technological sleepers of today, let's take a look back at the complete evolution of the trucks we spend so much time in, and how Pride Transport has not only kept up, but led these innovations.
In The Beginning
It depends how far back you want to go. Throughout all of human history there's been a rich industry of people delivering goods and services. From horseback to donkey carts, the concept of truck driving is arguably one of the oldest professions.
The truck as we know it was invented around the same time as cars, though the evolution of the semi-truck goes back to 1896 when Gottlieb Daimler created "vehicle No. 42." This was the first use of a motorized truck until Alexander Winton invented the 18 wheeler.
By 1900 Mack became the first company to use an automatic starter, thankfully making the hand crank obsolete. It took until 1953 for trucks to have an overhead sleeper, introduced by Freightliner.
This dramatically changed the concept of long-haul trucking, cutting down delivery time and expanding the limits of the industry. Since then the advancement of technology has enabled safer and faster trucking and helped find environmentally-friendly ways to improve the trucking industry.
The History of Pride Transport
To better understand the evolution of our fleet, let's take a look at the history of the company itself and how we've grown into the respected leader in the industry we are today.
1979: Pride Transport founded by Jeff England
1998: Pride fleet reaches 100 trucks
2011: Pride is named one of the 20 "Best Fleets to Drive For," and recognized for its environmentally green fleet
2012: Jay England becomes Pride CEO
2016: Pride fleet reaches 500 trucks

2020: Pride continues to innovate and grow
The Evolution of The Pride Truck Fleet
From leasing a few used trucks to owning a fleet of over 500, Pride Transport has seen quite the evolution. We've always employed the latest trucks with comfortable amenities and essential safety equipment to ensure our drivers are happy and safe. Just as we've grown as a company, so too has our fleet of trucks. Let's take a look back at where it all started.
1979

It all started with a Kenworth. Jeff England leased his first few trucks though CR England, though when he founded Pride Transport he took these initial trucks with him. This bright red 13-speed truck with manual transmission had all the comforts you see today from air conditioning to a 60 inch sleeper.
1982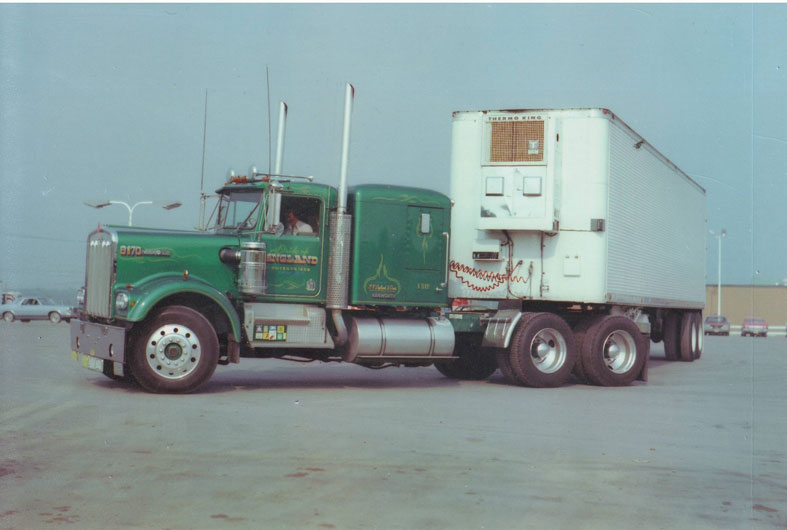 This 400 horsepower green KenWorth featured a Cummins Inc. diesel motor and a shorter wheelbase. Sometimes jerky, this was never a dull moment driving these trucks.
1990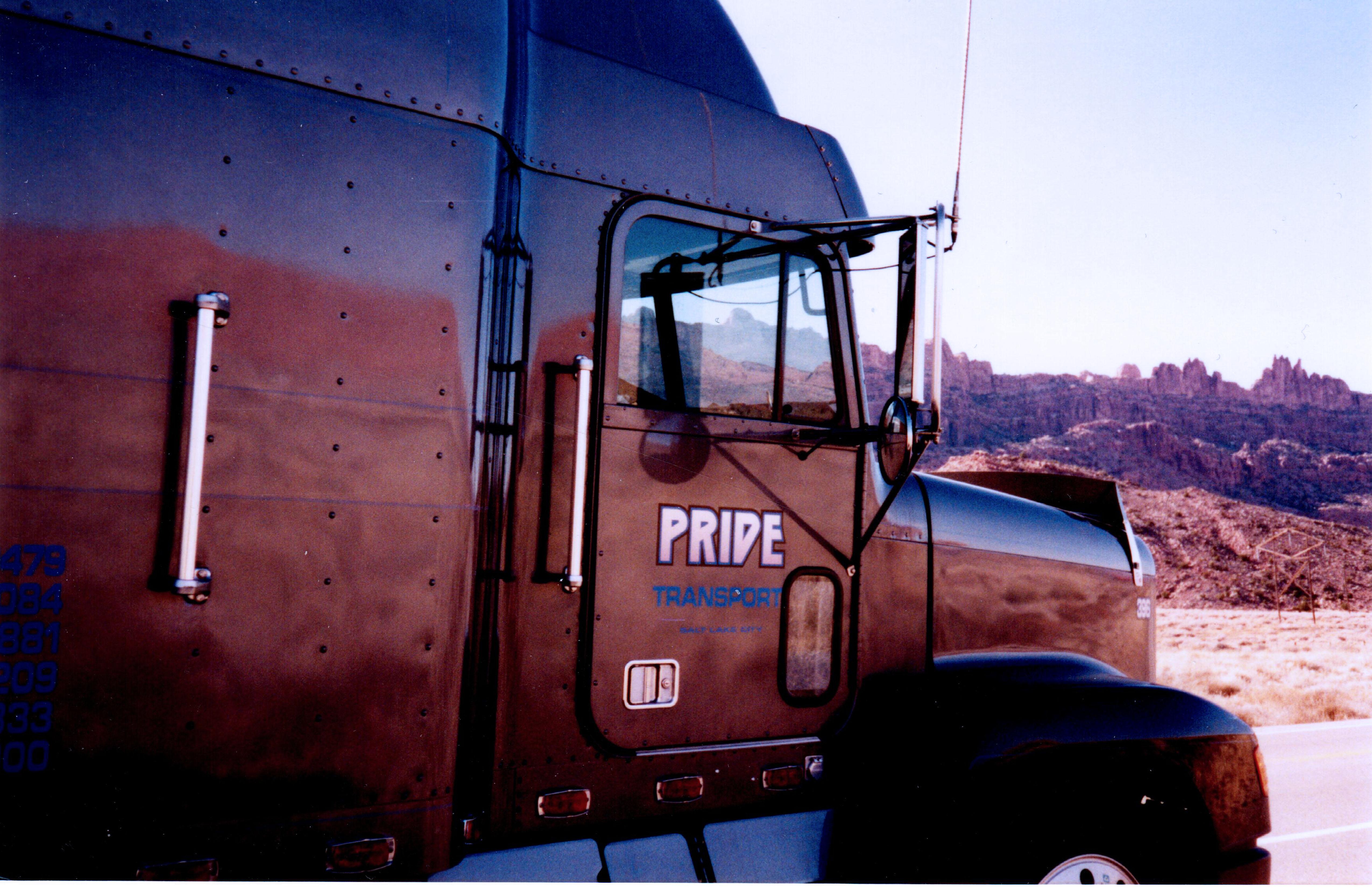 Pride's entire fleet was now all standard, 13-speed transmission. Over the decade Pride refreshed it's fleet with new Peterbilts, Volvo VN770s, and Freightliner Century Class tractors.
2002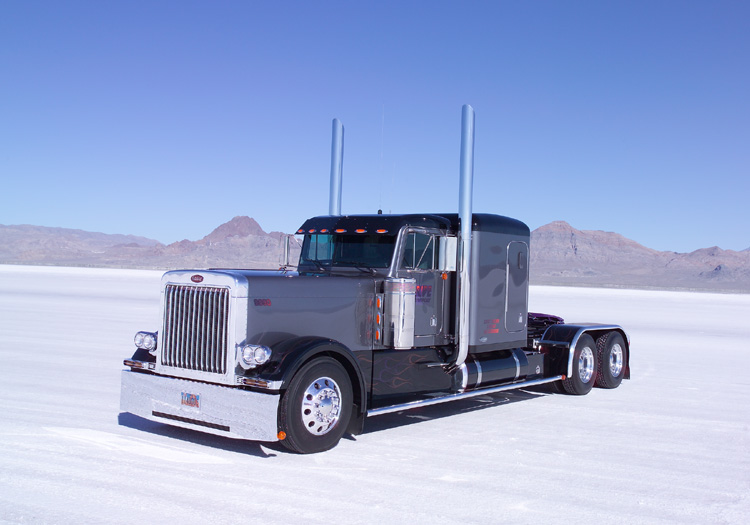 With a refreshed fleet Pride began looking to engineer their own trucks. Featured on the October 2003 cover of Ten Four Magazine, Pride showed off a flashy Peterbilt 379 with a Cummins Signature 600 engine, the first ever to be built.
Jeff built this truck, installing the engine and an Eaton high-torque 13-speed transmission, 280" wheelbase, and custom running boards. But this truck wasn't just for show, in fact it logged over 50,000 miles in eight months.
Pride's Current Trucks
Pride Transport runs the finest equipment on the road, running both automatic and manual transmission trucks with 90% of all trucks being automatic. With an average age of 23 months, all our trucks feature modern, luxurious amenities like satellite television, Sirius XM radio, refrigerator, bunk heater, optimized idle, 2000 watt inverter, and Sliding Fifth Wheel.
We take great pride in using the latest most reliable trucks, below are the three primary pieces of equipment we operate and some of their key features.
FREIGHTLINER CASCADIA NEXT GEN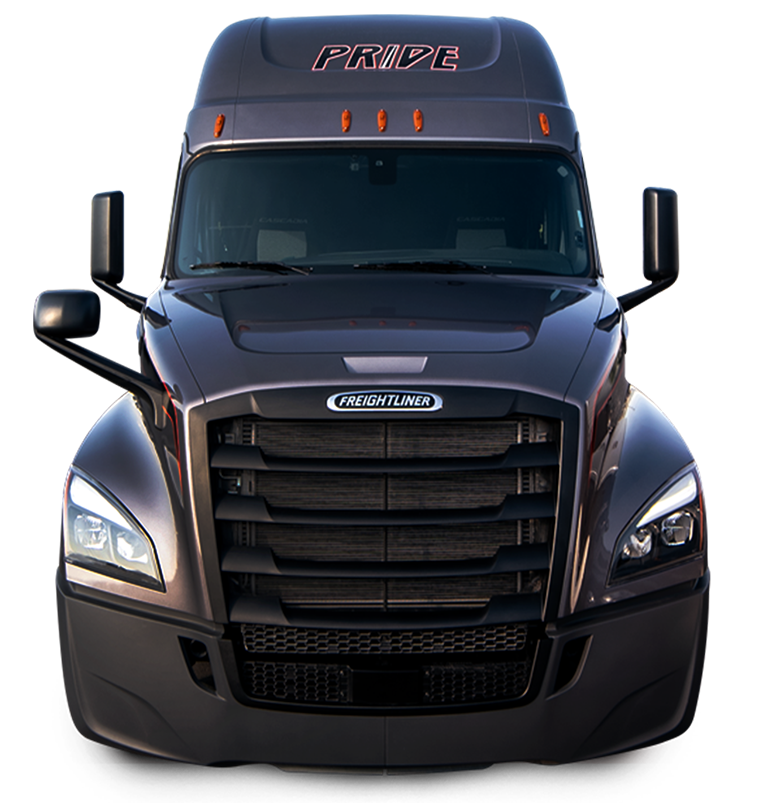 With a 72" raised roof, DD15 engine, LED headlights, triple-sealed doors, and 400-horsepower this new Cascadia is a best-in class leader. Sleek exterior design and advanced aerodynamics improves basic vehicle servicing, increasing uptime, and helps boost fuel efficiency. Truly one of the most advanced on-highway trucks ever offered.
FREIGHTLINER CASCADIA EVOLUTION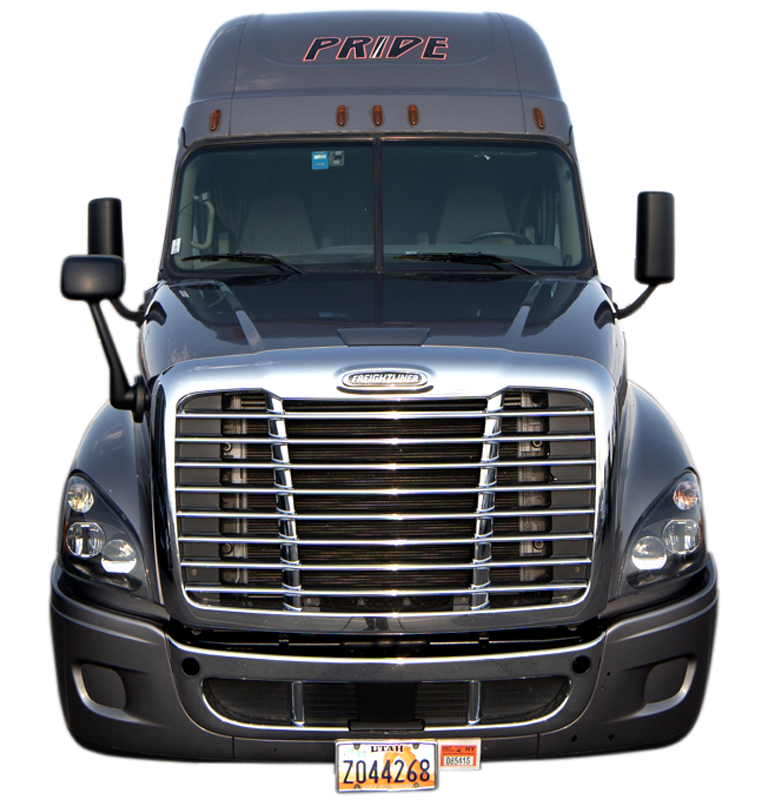 This truck sets the industry benchmark for long-haul applications that demand the highest level of fuel efficiency. The newly designed Detroit™ DD15® engine is engineered for enhanced performance and efficiency and it's advanced exterior design helps cut through the air faster. Inside provides enhanced driver comfort with better seat support and larger sleeping spaces.
PETERBILT 579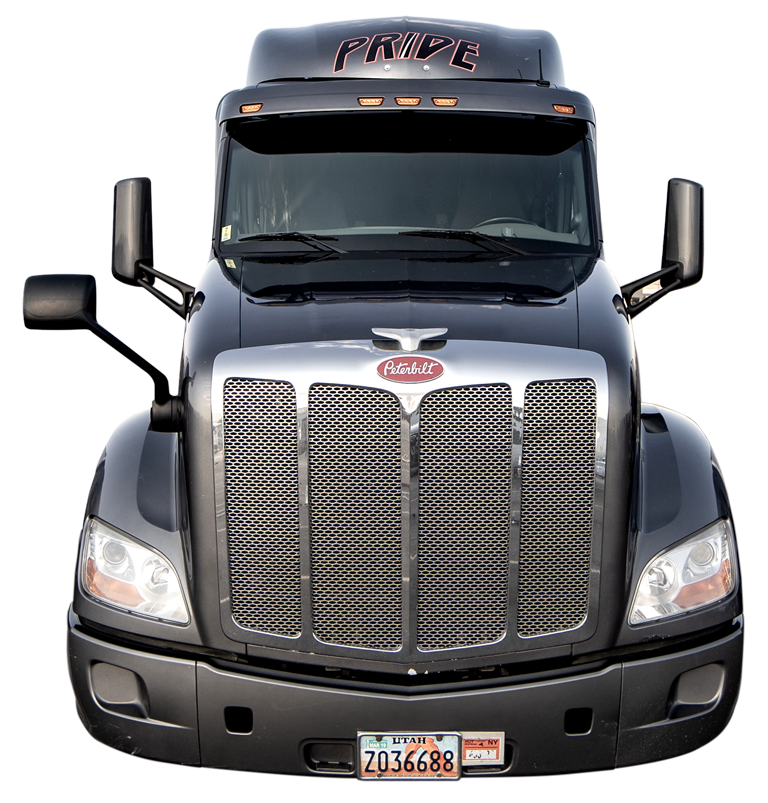 The increase in efficiency and the reduction in overall tractor weight are a testament to the focus on maximizing user experience. Featuring an 80" raised roof, 455-horsepower, Cummins engine, and transmission 13 speed manual and 10 speed auto this truck utilizes aerodynamics and durable materials for the highest quality fit and finish. The ergonomic cab and generously sized sleeper are designed for maximum productivity and comfort.
Both trucks and the trucking industry have come a long way since our humble start in 1979. We're always fond of our old trucks which, at the time, were state of the art. During the 1970's there wasn't nearly as much concentration on driver comfort. As the routes became longer and faster and truck driving became a much larger industry with growing career opportunities there is a much bigger emphasis on both comfort and safety.
Our modern fleet focuses on health and safety through ergonomic design, safer entrance and egress, quieter cabs, more comfortable seating, and increased automation. Who knows exactly where the next decade will take the trucking industry or the trucks themselves, but with a shift towards safer, eco-friendly, comfortable trucks, rest assured Pride will be at the forefront of truck innovation.