Solutions a Dedicated Fleet Offer
by Pride Transport | Jan 19, 2021
Let's face it; the economic climate these days is a nightmare. The instability of the economy has become a day to day headache. For companies looking to maintain a competitive edge in this ever-changing economic climate re-evaluating the type of fleet they should use for shipping needs might be a way to bring their company an advantage.
In this article, we're going to take a look at some of the advantages of a dedicated fleet. How can a dedicated fleet be beneficial to your company, and is this a viable solution for you?
What Is It?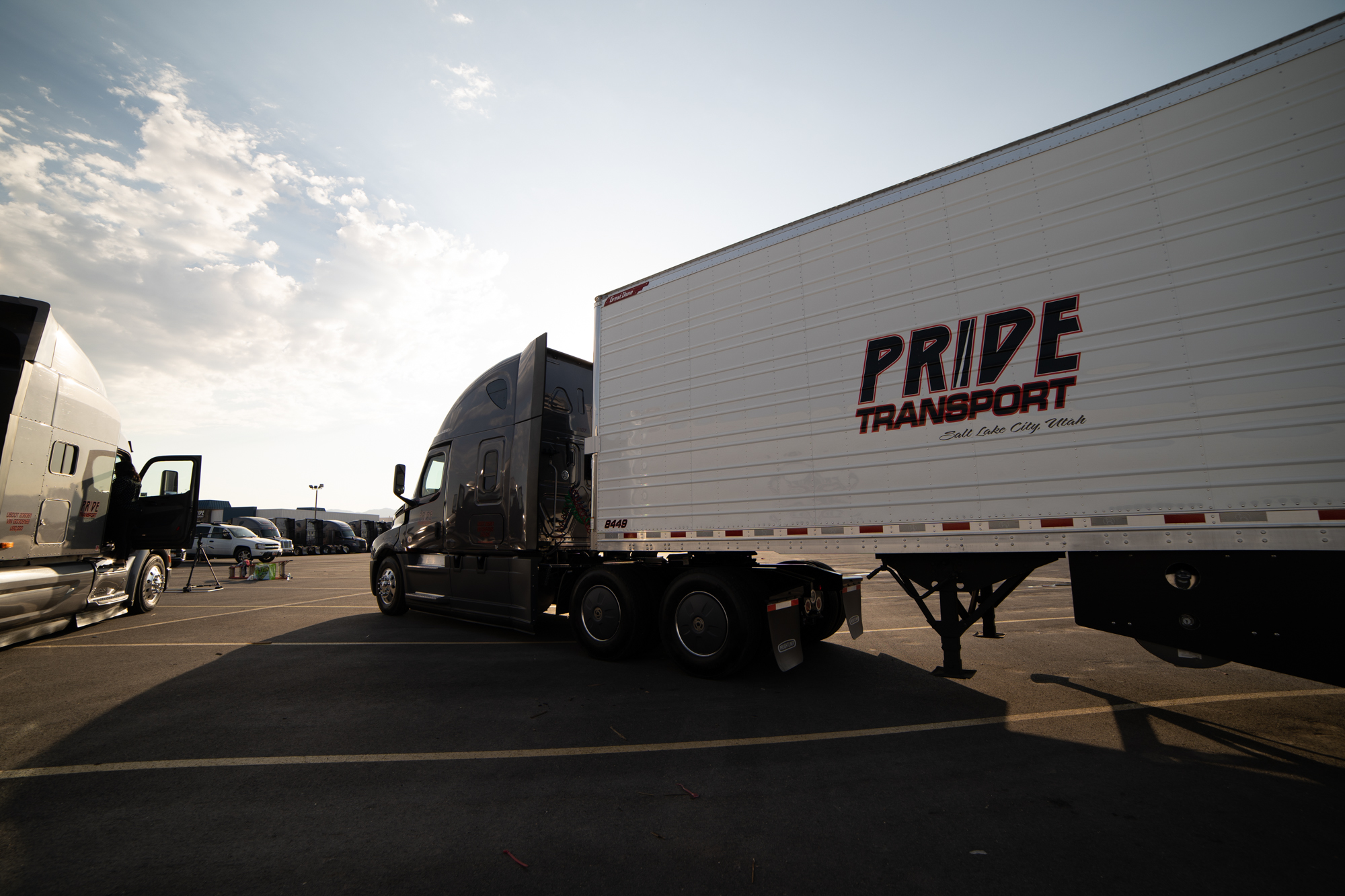 A dedicated fleet, known as a "dedicated contract carriage," refers to tractors, trailers, drivers, and other resources exclusively devoted to serving a set of facilities or lanes in a transportation network.
Basically, it's like owning a private fleet of trucks; however, you don't have to worry about the additional costs of maintenance, drivers, etc. We'll talk more about that in a moment.
There are other options. Traditional alternatives to a dedicated fleet are:
Operating a private fleet.

Hiring common carriers

Contracting with a third-party logistics provider for transportation services.
Of these options, most companies will find that having a dedicated fleet is more cost-effective, manageable, and helpful to the bottom line.
Significant Benefits
For shippers, there are significant benefits to having a dedicated fleet. Benefits that may allow for a leg up against the competition may also help with its bottom line.
Dedicated transportation is an effective way to guarantee capacity
This refers to types of Freight Pricing and the pricing contract. Contract pricing provides a guaranteed rate when the motor carrier has the capacity to move the load, as required by the shipper. The rates are typically in place for 12 months. Having a dedicated fleet means you're going to be locked into those rates because you'll be operating at capacity all the time.
It operates like a private fleet but at a lower cost
Think about this; driver compensation, technology, maintenance costs, administrative and operational support. What does all that mean? It means owning a fleet is not cheap. A dedicated fleet solution allows you to avoid the added costs that come with fleet management and maintenance. Because the fleet provider is responsible for fleet upkeep, driver recruitment, etc., you won't have to add resources to your team.
Better pricing stability and control costs
With a dedicated fleet, you're going to get lower and more consistent shipping rates. Because freight is traveling on the same routes on predictable schedules, this allows the carrier to optimize equipment usage to reduce empty miles and save costs.
With this also comes stability. When you move freight on a regular schedule and along the same routes, you develop what is known as a cadence. This is a consistent rhythm of inbound and outbound shipments, with dependable delivery windows. Now you can plan more effectively, utilize assets more efficiently, and keep transportation costs down, even if demand increases.
Punctual pick-ups, deliveries, and reduced claims
With a dedicated fleet, you're in control. There's no other freight on the truck; there's no need for the driver to drop off other shipments along the way to the final destination, which also means no need to load or unload along the way. This results in better shipment planning, timely pickups, consistent on-time deliveries, and a reduced chance for damage. This also makes it easier to modify route schedules as needed because the equipment and driver are committed only to your freight.
Better use of your time and resources
Your dedicated fleet will have the latest technology for staying on top of the supply chain. Experience and technology allow shippers to gain access to the insights needed to make the best shipping decisions and gain a competitive edge. All the while, freeing you up to focus on other parts of your business and reallocate resources to where they can do the most good. You save money, time, and effort and focus on growing your business while your dedicated fleet handles the operation's transportation side.
As you can see, having a dedicated fleet can give your company a boost. The most significant benefit is allowing you to focus time, money, and resources away from your shipping requirements and onto areas that can improve growth and profitability.
Will it Work For Your Business?
But, is it right for your business? A dedicated fleet may not be a resource that you need or want. It's not a magic bullet that will cure all problems for all companies. As you're re-evaluating ways to face and conquer this strange economy, take some time to consider if a dedicated fleet is right for you.
Direction of freight flows
Networks with significant inbound and outbound flows will undoubtedly benefit from a dedicated fleet more so than those with exclusively inbound or outbound flows.
Local, regional, or long haul deliveries
This is where a dedicated fleet can definitely pay off. When a shipper's local transportation requirements are fewer than 100 miles, common carriers will apply minimum charges. With a dedicated fleet, you won't be incurring those charges.
Depending on haul length, some regional deliveries could also benefit from using a dedicated fleet. Both regional and long haul deliveries are suitable for dedicated fleets if there are haul back opportunities.
Network characteristics
When a shipper sends several loads through many lanes, this is where a dedicated fleet is most beneficial.
Networks with local deliveries would need to have at least one load per day to reap a dedicated fleet's benefits. Networks with regional deliveries averaging 500 miles can benefit from using a dedicated fleet even if there's only one load per week, as long as there are sufficient backhaul opportunities.
The size and frequency of your shipping situation will ultimately determine the kind of transportation system you'll want to engage. The actual benefits of a dedicated fleet are often the intangibles. Having people available for other tasks that directly benefit growth and progress instead of shipping is a significant plus.
Having a trusted team with the experience and technology as well as the resources to take this part of the business off your plate is going to ease a lot of your business frustrations. All of your shipping requirements and data being in one place, handled by one company is the kind of cost-cutting and streamlining that your business could use to not only survive in the shaky economy, but the benefits of the dedicated fleet may give your business the edge you've been looking for.
It's worth doing some research and contacting a reputable transportation company, like Pride Transport, talking to their people, and finding out if a dedicated fleet is right for you and your business. Now, more than ever, your business is going to need an edge to survive.