Sacramento to Reno: Highlights Along Your Dedicated Driving Route
by Pride Transport | Oct 10, 2021
If you're interested in getting to know a certain part of the country and exploring all it has to offer, dedicated truck driving may just be the right lifestyle for you. On the West Coast, one of the best routes you could take is from Sacramento to Reno. With amazing local restaurants, charming small towns, beautiful state parks, and even the Sierra Nevada Mountains along your route, driving from Sacramento to Reno offers a little of something for everyone. It's really one of the best dedicated routes you can drive and we'll give you a few good reasons why.
In this article, we'll highlight some of the top places to see and eat while you're driving from Sacramento to Reno. So, what are you waiting for? Buckle up your seat belt and get ready to become a pro at navigating both the roads and top attractions along this route.

Best Places to Eat in Reno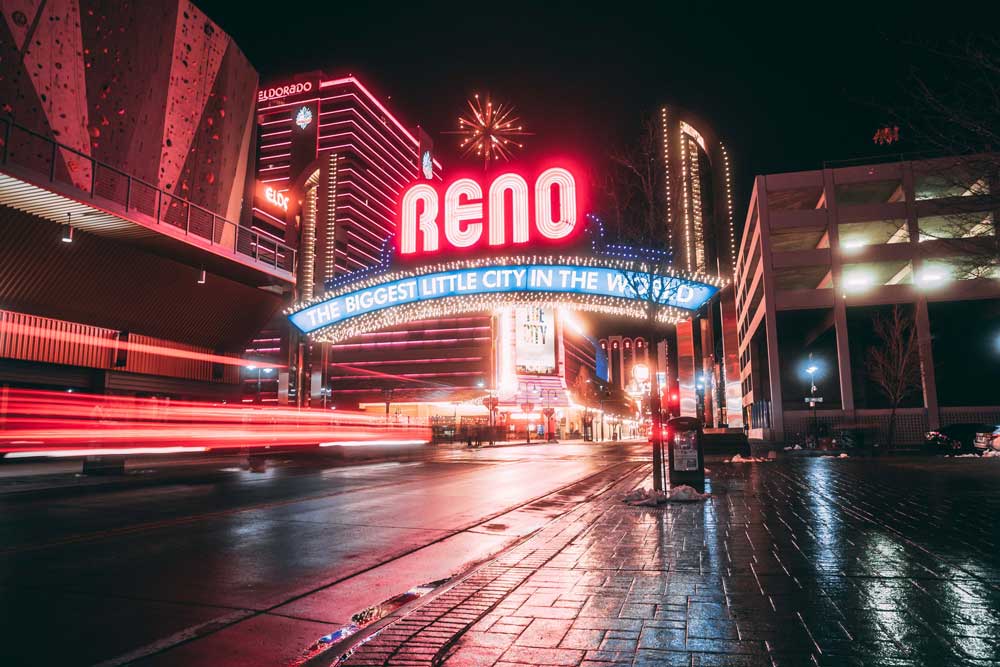 Reno may not be very large compared to other cities in Nevada, but it has a lot to offer–especially in terms of food. Their growing dining scene makes it an excellent place for food lovers near and far. Here are some of the top food spots you should check out in Reno:
A community staple since 1974, this all-American breakfast and lunch diner is famous for its extensive menu and giant omelettes. One of the most popular menu items is the Racy Tracy, an omelette stuffed with bacon, mushrooms, jack cheese, and avocado that was featured on the Food Network show "Throwdown with Bobby Flay." They even have vegan and gluten-free options. Don't forget to leave a note to the staff and future customers by writing on the message wall before you leave.
This casual restaurant located in downtown Reno specializes in American comfort cuisine. Locals love this place and it features a rustic, wooden bar that's perfect for grabbing a craft beer while you wait for your food. One of the most popular dishes is their wood-grilled ranch steak with potatoes, mushrooms, and mustard. The roasted vegetables eggs benedict topped with hollandaise sauce with a side of vegetables is also a local favorite.
Located in south Reno, this family-owned restaurant specializes in wood-fired pizza. Pizza lovers can feast on pizza made from high quality ingredients sourced locally and internationally. With flour sourced from Naples, their pizzas are all handcrafted and cooked in a Stephano Ferrara brick oven. Along with their pizzas, diners can also enjoy salads, meatballs, fire roasted vegetables, salumi, and cheese plates.
Best Places to Eat in Sacramento
The lively food scene in Sacramento is one of the reasons travelers love visiting this city. Whether you're craving sandwiches, noodles, or fried chicken, this city has something for everyone. So, while you're in town, check out some of these top-rated restaurants:
A Sacramento classic, this classic deli serves hand-carved sandwiches piled high with roast beef, pastrami, turkey, tri-tip, baked ham, or corned beef. Pickles come with every sandwich to give it some extra flavor and crunch. Add a side of mashed potatoes or macaroni salad to complete your meal.
Located in Southside Park, South offers contemporary Southern cuisine that focuses on seasonal vegetables and is inspired by history. This local establishment offers traditional family food with no frills or gimmicks–just good food. In addition to their famous fried chicken, this mom-and-pop shop quickly became the city's go-to spot for their barbeque plates, jambalaya, and hot chicken sandwiches. For dessert, try their banana pudding or pecan pie.
Using only the highest quality ingredients, this local favorite serves exquisite Asian cuisine. One of the most popular dishes is their pork-based shiro (white) tonkotsu ramen. If you like spicy food, try their Aka (red) tonkotsu ramen – this spicy pork-based noodle soup will be sure to satisfy your cravings.
Best Stops from Sacramento to Reno
While there are a lot of places that you could stop along your route, we've put together a list of the can't miss destinations along the way.
Sacramento, CA
Once you reach your point location, it's worth taking the time to explore the city. With over 125 shops, restaurants, events, and attractions, the Old Sacramento Waterfront historic district is a must-visit. Grab a bite to eat and enjoy the picturesque historic landscape while you relax along the waterfront.
Auburn, CA
Located about 35 minutes outside of Sacramento, be sure to stop by Old Town Auburn to discover local restaurants, fun antique shops, and special events that happen year-round.
Truckee, CA
Located only about 35 minutes from Reno, Truckee is the gateway to the Sierra Nevada. With the Truckee River flowing in the warmer seasons and snow capped mountains in the winter, this historic town is a must-see. Stretch your legs and get some fresh air at Donner Memorial State Park or Donner Lake, two of the most visited spots in town.
Lake Tahoe, CA
No trip from Sacramento to Reno would be complete without a stop at Lake Tahoe. Visit Incline Village and Crystal Bay for great eateries, shopping, and the chance to take a quick beach break. If you have a day to spare during the winter, you can hit the ski slopes or stay warm and play at the casinos in town.
Reno, NV
One of the top things to do in Reno is to sightsee at Reno's Riverwalk. Located along the Truckee River, this downtown district attracts food and art lovers from all over. Visitors like to describe this place as a clean reprieve from the nearby casinos.
Apply to Become a Dedicated Truck Driver
Current Opportunity: Reno to Sacramento and Back, Sacramento to Reno and Back Apply Now
Because we know you're wondering… YES! Pride has job openings right now for various dedicated routes-- including one from Sacramento to Reno. Here at Pride, we want to make sure that our employees are happy--and for many drivers, that means spending more time with family. Dedicated truck driving allows you to be home just about every night. That's right! Unlike OTR truck driving, which puts you out on the road for weeks at a time, dedicated truck driving allows you to have a more consistent driving schedule, and getting to know a unique part of the country like the Reno-Sacramento pass.
Our Class A dedicated truck driver opportunities are full-time positions with full-time benefits. And when it comes to compensation, Pride drivers get top pay between $0.51 to $0.65 per mile. Another perk? There's no waiting time. If you're ever sitting at a dock, you get paid $19.00 per hour. Oh, and one more thing–all full-time drivers qualify for a $10,000 sign-on bonus!

Pride also offers all our full-time drivers a 401k plan and we match 20% on your contributions. Other excellent benefits include an affordable health plan (family included), paid orientation, six paid holidays, paid vacation after one year, pet and rider programs, newer Peterbilts, Kenworths, and Freightliners, and 100% no-touch freight (refrigerated).

So, what are you waiting for? Join the Pride team today as a dedicated truck driver to take your career down the right route. Apply online today.