Pros and Cons of Taking a Team Truck Driving Job
by Pride Transport | Oct 20, 2021
Simply put, team truck driving is when two drivers alternate driving the same truck. The other driver could be your colleague, friend, or significant other. When one person drives the other can rest or sleep, and vice versa. Think of team driving as the best of both worlds, or a multitasking opportunity--not only are you able to work, but you have company while doing so.

With team driving, the three most common types of driving opportunities include over-the-road (OTR), regional, and local. OTR driving positions can cover great sections of the lower 48 states. For example, although Pride OTR driving opportunities mostly runs western states, we also run the I-80 corridor to the East Coast. Regardless of the type of team driving you do, there are advantages and disadvantages to being a team truck driver.
Whether you want to be your own boss or make money while spending time with your partner, there are many reasons why people get into team truck driving. In this blog, we'll discuss the pros and cons of driving with a partner so you can decide if this is the right career path for you.
Benefits of OTR Team Truck Driving
Team Drivers Get More Miles
More Driving = More Money
Team Driving Jobs Are In High Demand
The Road Is Less Lonely With a Partner
It's Safer Driving As a Team
Team Drivers Get More Miles
Driving alone can be rough. Not only is it physically difficult to drive after so many hours, but there are strict rules and regulations that limit the amount of driving a solo truck driver can safely be behind the wheel.
For example, the Federal Motor Carrier Safety Administration (FMCSA) places an 11-hour driving limit on property-carrying drivers. This means that a truck driver may only drive a maximum of 11 hours after 10 consecutive hours off-duty.

The FMCSA also mandates that a driver must take a 30-minute break after driving 8 consecutive hours. During this break, the driver cannot be behind the wheel. With a team driving, the driver can take their 30-minute break to rest while their partner continues the drive, resulting in fewer stops and faster deliveries.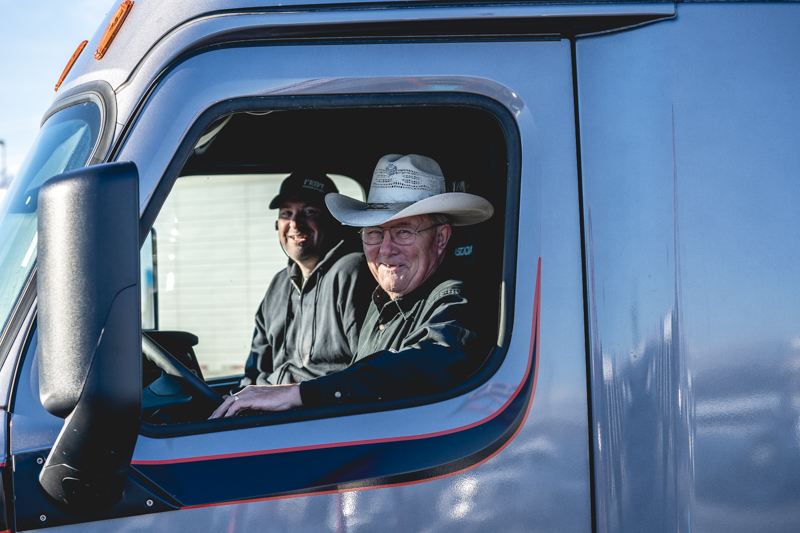 More Driving = More Money
Compared to solo driving, team drivers typically earn more money. That's because with a driving partner, you're able to log more miles than you would driving by yourself.

Here at Pride, our team drivers average about 21,000 miles per month. And the best part? Productivity incentives start at 18,000 miles per month and go up to $0.05 more per mile to the truck at 22,000 miles and above. Team CDL jobs simply pay more, which can lead to an additional $1,100 in your pocket each month from incentives alone!
Team Driving Jobs are in High Demand
Driving teams have always been high in demand, and team driving is one of the highest paying truck driving jobs in the industry. According to ZipRecruiter, the average annual pay for a Team Truck Driver in the United States is $80,674. To break it down, that's approximately $6,723 per month, $1,551 per week, or $38.79 per hour.

Here at Pride we offer better than industry average page and we have plenty of team driving jobs available. If you have the time, we have the miles.
The Road is Less Lonely with a Partner
Some drivers like to be alone. Others prefer to have a companion to chat with as they drive. One of the biggest benefits to team driving means you'll always have someone there with you. Whether you're driving with a friend or a spouse, you'll be able to spend more time together while making money on the road and enjoy passing the time with a partner to talk with.
It's Safer Driving as a Team
When you're driving alone, you always have to be careful about locking up your truck when you leave it in the lot while grabbing food or a shower. But with a partner, you can rest assured that someone will be there to watch over the truck even if you forget to lock up. Having someone drive with you means you'll have each other's backs, creating an overall safer driving environment.
Disadvantages of Team Truck Driving Jobs
You Won't Be Alone
You Won't Have Complete Control
Sleep May Be a Problem
Long Time Away From Home
You Won't be Alone
Having a co-driver means that you won't get much alone time. While in the truck, you'll always have someone there with you, so those who value their personal space might be less accommodating to the shared cabin. If you get into an argument or disagreement with your partner, the lack of space and time off from one another might make the rest of your trip uncomfortable.
You Won't Have Complete Control
When you're on your own, you have full control of when you want to stop, take a break, or the kind of music playing. But when you're driving as a team, you'll have to be considerate of your partner's preferences, as well.
Sleep May Be a Problem
With team driving, you can sleep while your partner drives. However, the quality of sleep might not be great. To get quality sleep, you typically need to sleep straight through the night, without waking up multiple times. Light sleepers might find that noise from the highway traffic or other loud distractions (potentially from your driving partner) may cause you to wake up multiple times.
Because of the sporadic sleep patterns team drivers have to endure, their circadian rhythms get disrupted. Unfortunately, this can leave a driver feeling groggy and tired when it's time to take your turn behind the wheel.
Long Time Away from Home
With team driving, you could be away from home for many nights at a time. Depending on the company you work for, you could be driving for 2-3 weeks at a time. Some team drivers stay out for months on the road before returning home. If you're the type of person that wants to be home most nights, then team driving may not be the best career choice for you.
Final Thoughts; Is a Team Truck Driving Job Right For You?
So, is team driving for you? It all comes down to personal preference, and how you handle being in close quarters with someone for long periods of time. Some people prefer to hit the road solo while others see the many benefits of team driving. Like most jobs, a team driving career should fit your skills, interests, and lifestyle. If you think a team truck driving job might be for you, tag team America's freeways and apply online at Pride today. We have team truck driving jobs available right now and are looking for motivated drivers to join our family.