Pride Transport, The Best Looking Fleet in the Country
by Pride Transport | Apr 16, 2021
Think of it this way; you're out with people, you're talking about work, and someone says, hey, you sound like you know what you're talking about, how can I get in touch with you? At that point, you produce your business card, one that you struggled over to get the right color, font, paper thickness, the works. Why? Because your business card is a representation of who you are and the company for whom you work.
Business cards are a world unto themselves; however, ask anyone in most lines of business, and they would tell you that the right business card makes a perfect impression, and it's wise to take time and put effort into selecting the right card.
So, that's a good tip, spend some time picking the right business card, and you'll have a good representation of yourself and the company for whom you work. Easy, right?
Well, what happens if your business cards don't weigh 300 GSM (Grams per square meter) but instead weighs 25,000 pounds. Try finding a snazzy leather holder for that behemoth of a card. Good luck.
Your business card has all your information on it, and when a person looks at it, whether they mean to or not, a judgment is made about you and the company for whom you work. That's why people carry cards, and they try to avoid writing their information on nacho-stained cocktail napkins. Your business card says something about you and your company.
So does the condition of a Pride truck.
A Statement

Just as your business card makes a strong statement about who you are and the people you work with, our Pride trucks are a mobile statement about us, our business, and how we want to be perceived.
A significant difference between our trucks and your business card is that you can decide when and where you pull it out and who you give it to. You have control over that. We really don't. Our trucks are out in the open and can be seen on highways all over this great nation. We don't have a choice as to who sees our trucks. Also, it's much easier to pull a business card from your coat pocket than it is to pull out a 25,000-pound truck.
But we're not shy about our equipment. We're happy that our Pride trucks, driven by the road's safest drivers, are on display all over the place. Our Pride trucks are a great representation of who we are, people who care about our drivers and their comfort and safety.
Clean, Cool & Reliable
Three words that aptly describe our machines. We keep them clean, they look cool, and because of our expert mechanics, our trucks are reliable.
Our founder and our president, Jeff and Jay England, both have offices that overlook the inbound and outbound truck lane. They see trucks and trailers leaving the yard, and they have been known to make a quick call, if necessary, to stop a driver from exiting the yard with unclean equipment. That may sound demanding, but if you think about it, that's the kind of attention to detail that keeps Pride on top.
Our Name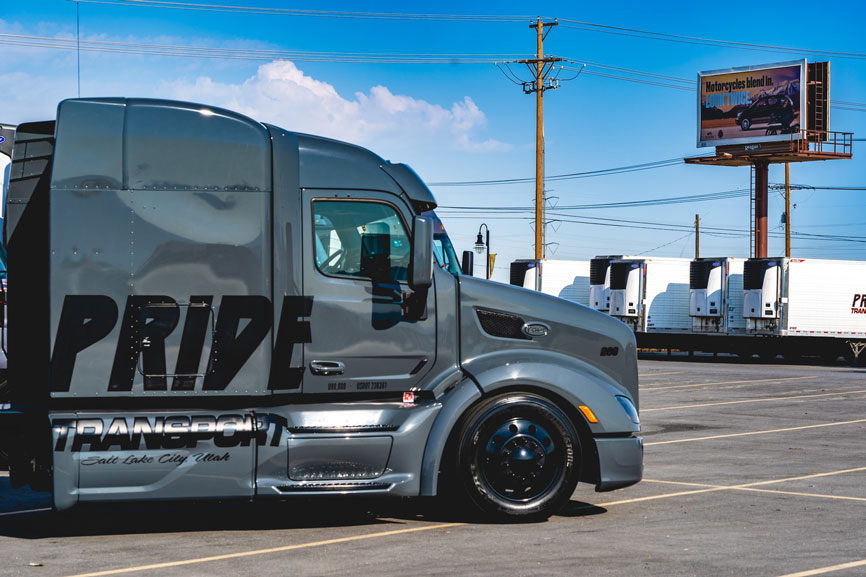 Our name says a lot about who we are. We are like a pride of lions; we take care of each other, we operate as a family, we make sure our family, our Pride, is cared for, respected, and working as a unified force to better our employees' lives every day and to better the entire industry.
If you put the word Pride on the side of your trucks, you know you're going to open yourself up to incredible scrutiny. There will always be those who will look for the cracks, the scuffs, the missteps so they can say, "really, that's what you're proud of?" When you name your company Pride, you better be able to back it up on every level, and we do.
The name on the side of our trucks is a way of life, a business philosophy, and the feeling we have about our employees, especially our drivers. We don't hide our name or make excuses for it; we proudly and prominently display it to show the world what we are made of.
We also display our name so our employees have a goal to uphold. To do work and be part of a company that they can have pride in. That's certainly something to drive for. And, it's certainly a reason to keep our trucks looking and performing their very best.
More than Clean
It's true; Pride has a truck wash on our facility that operates 24/7. We like our trucks looking bright and sharp. It represents our name, but it is also a clear sign to anyone who pays attention to how we feel about our drivers.
You can say you respect your drivers; you can put that in every ad, all over your website and make it part of your marketing materials, but when someone sees one of your trucks on the road, and it's filthy or worse, broken down by the side of the road, stranding a driver, that's what people are going to remember. And they are going to think, wow, it must suck to drive for those buffoons.
We keep our trucks looking and running great because we believe our drivers deserve the very best. Our respect and admiration for our drivers isn't just lip service, we prove it in many ways, and one way is the trucks we give them to drive. We present them machines that they can be proud to be seen in. That they know are reliable and will let them get the job done safely and without any hassles.
Our name is on the side of the trucks, but our real pride is sitting behind the wheel.
The Equipment
Pride Transport runs the finest equipment on the road, running both automatic and manual transmission trucks. Our fleet average age is 23 months, and all trucks come equipped with a refrigerator, satellite radio, optimized idle, available 2000 watt inverter.
We give our drivers the very best because we demand the very best from them. No one can succeed without the proper tools and equipment to help them succeed. We make sure our trucks are well serviced and looking sharp so that our drivers look and feel their best about being in them, which translates to happier drivers who do better work.
Here's what we're running:
FREIGHTLINER CASCADIA NEXT GEN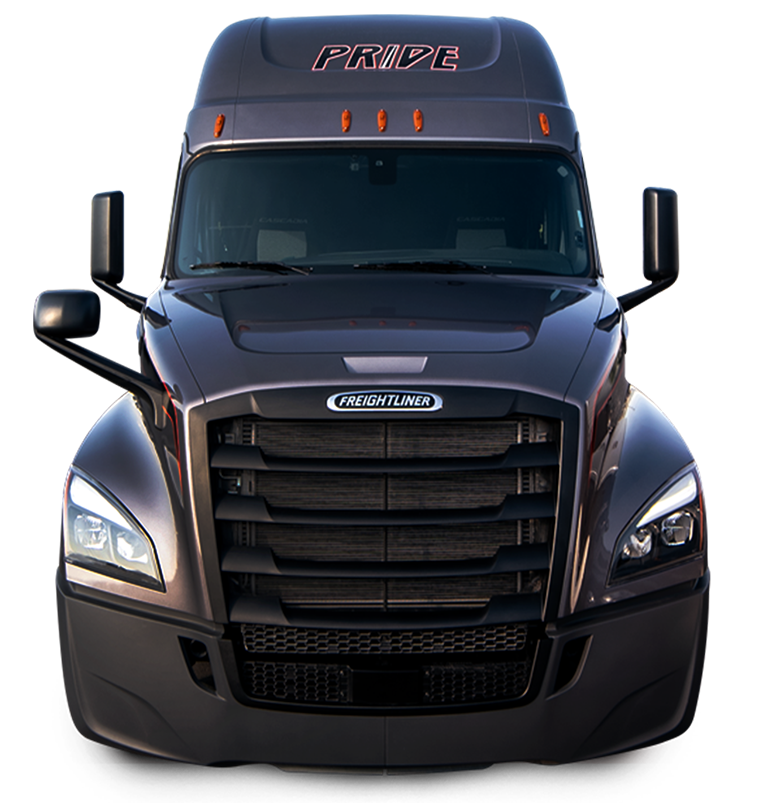 Trucking down to a science means attention to every detail. That's what makes the new Cascadia a best-in-class leader.
FREIGHTLINER CASCADIA EVOLUTION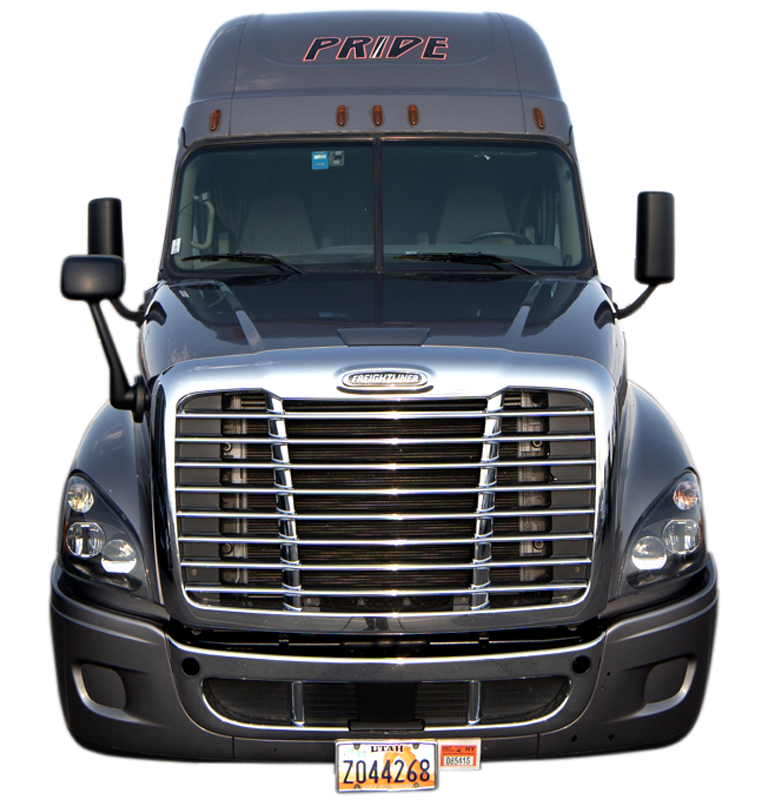 This truck sets the industry benchmark for long-haul applications that demand the highest level of fuel efficiency.
PETERBILT 579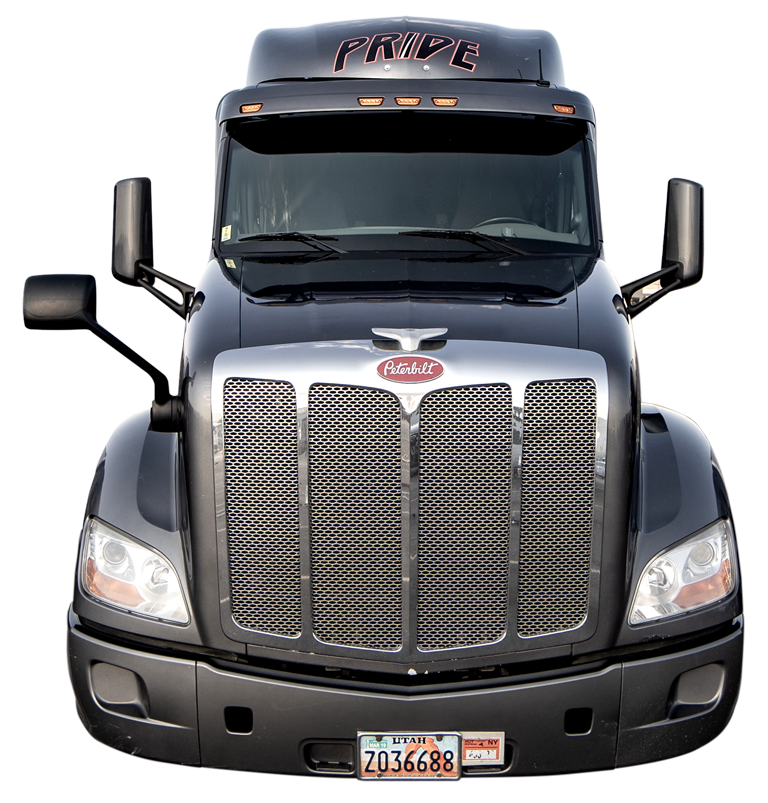 The increase in efficiency and the reduction in overall tractor weight are a testament to the focus on maximizing user experience.
This is serious equipment that is a pleasure to drive. Pride has the finest equipment on the road, running both automatic and manual transmissions.
Maintenance
In our maintenance department, we are all about keeping the fleet moving. Our maintenance people are passionate about keeping our trucks in top-notch condition so our drivers don't have to worry if they're going to make it to delivery or will they be stranded in the middle of nowhere.
A truck is their living for a driver, and they cannot make a living if their truck is sitting in a maintenance bay for days on end. Our maintenance experts are continually adjusting their approach to be as efficient as possible while getting repairs right the first time. Their Pride is doing everything to get trucks back to drivers as soon as possible.
Again, a truck with our name on it, broken down by the side of the road, can give the wrong impression about who we are and how we treat our drivers. We put our name on the trucks, so we work hard to keep them running and looking good, to be objects of pride.
The Best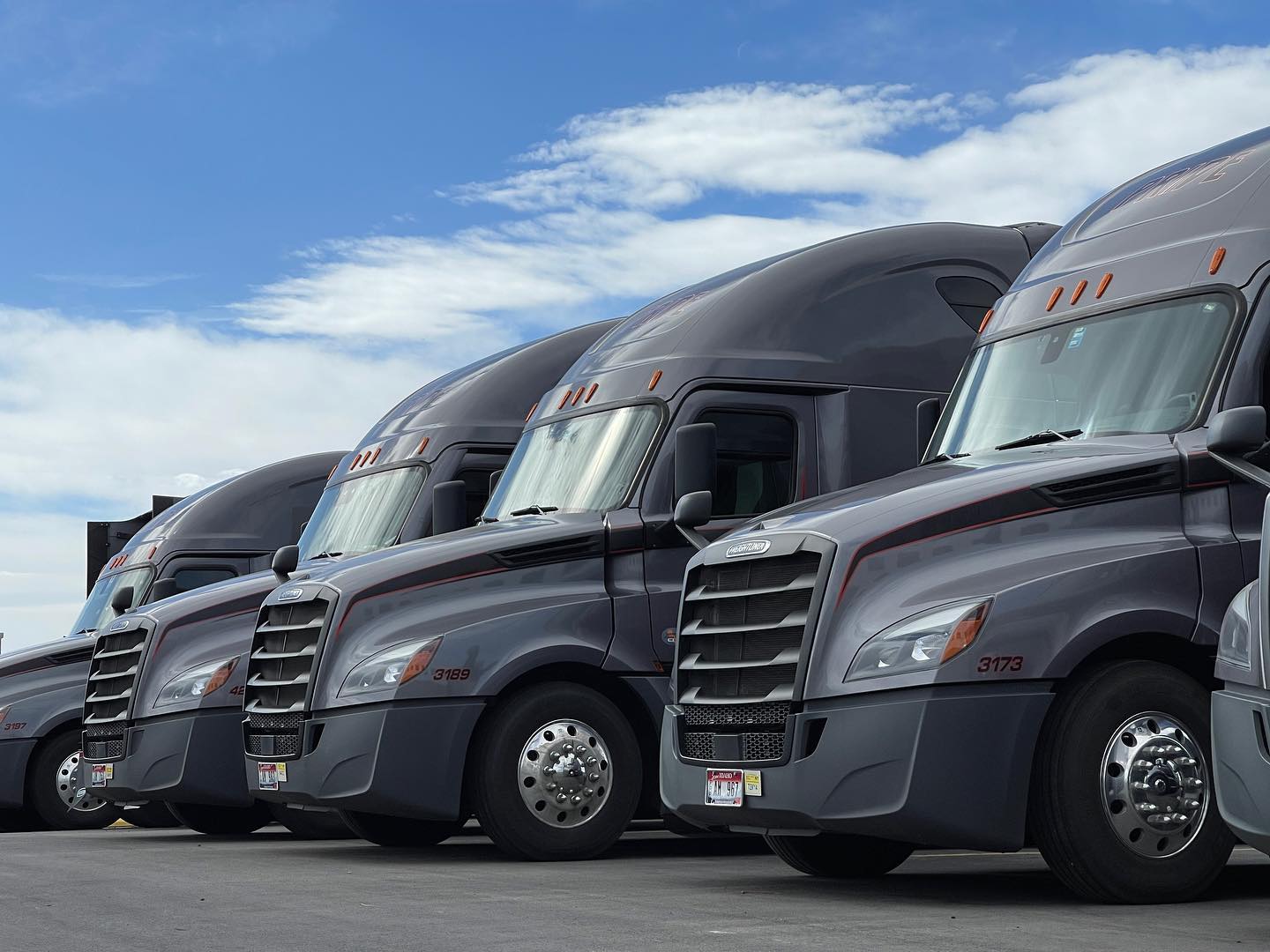 Why does Pride have the best-looking fleet in Utah? Because they have pride in what they do, who they are, and how they are perceived.
It's pretty simple; you want the best drivers, want to be the best company, and run the best equipment. Equipment that stops people in their tracks and makes them take notice. Equipment drivers are proud to be seen in and make their already strenuous job a bit easier, a bit more pleasant.
If you say you respect drivers, then it shouldn't be that hard to show it with the maintenance and upkeep of sound equipment. When a driver sees one of Pride's trucks, they should think twice about who they're driving for and wonder what it's like to drive with Pride.
Maybe one good looking, well-maintained truck isn't going to have that great an effect on someone outside the business, but one filthy broken down truck holding up traffic is undoubtedly going to make a lasting impression on the people whose lives are being held up.
These are all things a company should think about before they put the name Pride on their trucks. And, trust us, Pride has thought of all this and more. That's why Pride will continue to have the best looking, the best-maintained trucks in the business.
We put our name on our fleet. We're proud of what we've accomplished and what we continually do. Being the best is about tending to details, never allowing things to slip through the cracks, and maintaining a visual presence that supports the company's philosophy and everyone who works there.
Having pride in the equipment you send out into the world is just one of the many facets that say you're driving with Pride.