How to Wash a Semi Truck
by Pride Transport | Feb 20, 2023
Washing a semi-truck is easier than it sounds. Since these vehicles are so massive, the idea of keeping them clean looks to be an impossible task at first glance. There are nooks and crannies all over the place, the tires are massive, the windows are massive…basically, every part of a semi-truck lends itself to being hard to clean!
However, once you get into the habit of cleaning up your truck you might even find it fun! There's a certain sense of pride you get when shining up your wheels and leaving the lot with a sparkling rig.
Want to learn how to clean your truck like a professional truck driver, either on your own or at a truck wash? Grab your hose, and let's get to cleaning.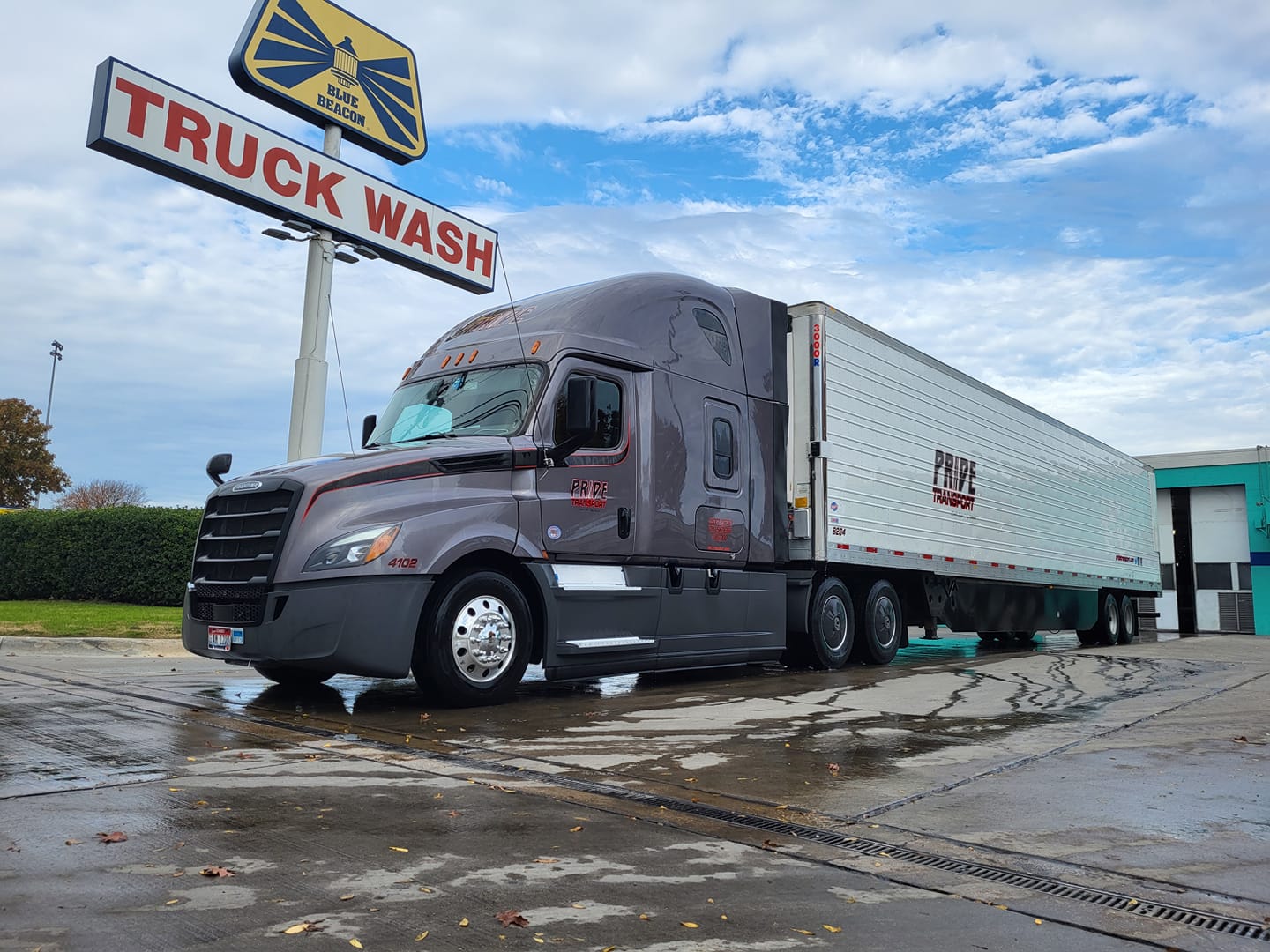 Washing a Truck by Hand
Washing a truck is just like washing a car…a very, very big car. Part of keeping your rig in tip-top shape is keeping it super clean, and to do that, you'll need:
Soap

Microfiber cloths or soft mitts

A trash bag

Buckets

Towels

A fan (optional)

Window cleaner

A foaming gun

A vacuum

A scrub brush

A hose and/or pressure washer

Wax

A buffer (optional)
Once you're ready to get started, work from the inside out.
Grab a trash bag and fill it with any empty cups, crinkled receipts, and other trash inside your vehicle.

Vacuum all around the seats, the center console, inside your glove compartment…anywhere dust and dirt can fall deserves a visit from that sucker! (Bonus points if you shake out your mats, dust your dash, and Windex your windows while you're in the cab.)

Wet the exterior of your vehicle with warm water, then soap it up and rub on the cleaning solution using a wet cloth or mitt. You can even grab a scrub brush and give your rims a little TLC. If you're using a pressure washer, you might have a foaming attachment you can pour the soap into.

Rinse thoroughly with warm water. You can do this by filling buckets with water, using a hose, or even using a power washer.

Once you're satisfied you've gotten all the soap off, use towels or a fan to dry the vehicle. Depending on the weather where you live, you can allow it to dry in the sun.

When the truck is completely dry, massage some wax into it using a microfiber cloth or a buffer, if you know how to use one. This helps protect your paint and also gives it an extra level of shine.
Some hot tips from Pride:
Wash a small section at a time. This can feel more manageable than tackling everything at once!

If you live in an intensely hot and sunny area, park your truck in the shade to let it dry, then apply your wax. It's less likely to melt and streak immediately if you keep it out of direct sunlight.

Don't use dish soap! Investing in a pH-balanced soap can make all the difference when you're washing your truck.

Here are some great chemical washes

currently on the market that fit a variety of budgets and frequency of washes.
Where to Take Your Truck to Get It Washed
If you would rather pay someone to detail your truck for you, or self-wash or work in tandem with a cleaning professional at a location designed specifically for washing trucks, you're in luck. Just like car washes, truck washes can be found all over the country and can include a wide variety of cleaning options.
There are quite a few different companies, but you might recognize one of these names.
Blue Beacon.

Most truck drivers will recognize this name. With over 100 locations across the U.S.,

Blue Beacon

has established a reputation for high-quality trailer washouts with the option to add Rain-X or WeatherShield protectants to your wash.

DetailXPerts.

DetailXPerts is a company of…well, detailing experts! Not only do they specialize in washing boats and aircraft, but they're truck washing pros who can get you (and your whole fleet) sparkling clean. Visit one of their many locations across the country, or

schedule an appointment

for them to come to you.

Midamerica Washout.

With multiple locations in Nebraska and Kansas,

Midamerica Washout

offers a live feed of their Fremont and South Sioux locations so you can see if there's a wait before you get in line for a wash. They offer standard livestock washout and disinfectant services, as well as hopper washouts.
Depending on the services you want, the cost of going to a truck wash (or having one come to you) can vary. Expect to pay around $75-$100 for a simple tractor/trailer washout, and add on around $5-15 each for any disinfectants and protectants you might include.
Truck Washing FAQs
Still have questions about how to clean your truck? Don't worry – we have answers.
How long does it take to wash a semi?
If you're choosing to wash your own vehicle, plan to take at least half an hour to wash it down. Keep in mind that the temperature in your location will affect your dry time if you're letting it air dry.
How many gallons of water does it use?
Whether you're washing in-house or at a wash bay, expect to use at least 20 gallons of water for the job. Of course, this also depends on the size of your vehicle.
Can I tip if someone else washes my truck for me?
Of course, you can (and should!) tip if you're impressed by the cleaning job a truck wash employee or hired yard jockey did. You can also pay it forward by helping another driver wash their truck. After all, many hands make light work!
–
If you're interested in working with semi trucks, look no further. Pride Transport is hiring drivers to join our family!