Fun and History on I-80 East, Part I
by Pride Transport | Nov 05, 2019
In our vast and glorious nation, there are 70 primary Interstate Highways as designated by the Interstate Highway System. Of them, I-90 is the longest, at 3,020 miles, coming in second at 2,899.59 miles (4,666.44 km, for our European friends) is Highway I-80.
Part 1 of 2 Read the second installment here
I-80 starts in downtown San Francisco and runs across the more northern portions of the country until it reaches Teaneck, New Jersey, just ten miles outside of New York. The highway most closely approximates the route of the historic Lincoln Highway, the very first road that spanned across the United States. It passes through 11 states and most of the major cities in those states. It also comes within ten miles of Chicago, Cleveland, and New York City.
Freeway vs. highway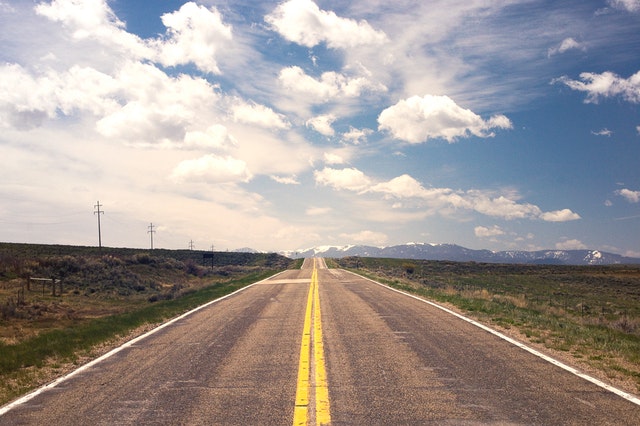 A little clarification. There is a difference between a highway and a freeway. Although most people use the two terms interchangeably and they both serve the same purpose, getting people from here to there or from there to here. Depending on where you're standing.
To get on a highway you'll use a ramp or an intersection that allows you to easily flow with the traffic that is already on it. Some highways have traffic signals or intersections along their length for easy traffic flow. Highways may also include toll roads. They are meant for all vehicular traffic, cars, trucks, bikes, horses, etc. Highways can also have at-grade, railroad, crossings. Highways usually have less traffic than freeways and pass through large cities and populated areas.
To get on a freeway you'll use a ramp and merge with the traffic already on it. Freeways are void of intersections, traffic lights, and at-grade crossings so there is very little to slow the flood of traffic. Freeways tend not to pass through large cities or densely populated areas, usually, they stay on the edges and smaller towns. Freeways tend to have more lanes than highways and they are the best choice for long-distance travel as there is little need for stopping or slowing down.
I-80 is ...
After much confusion and some heated exchanges with colleagues, we have come to this conclusion: no one really has any earthly idea if I-80 is a highway or a freeway. In stats and route lists it is named a highway, a freeway as well as an interstate. Some contend that for a portion of it, it has the characteristics of a freeway, while other portions of it mimic the major characteristics of a highway. For the purposes of continuity in the rest of this article, I-80 will be referred to and treated as a highway. I offer my sincerest apologies to anyone who is offended or troubled by that demarcation choice. As this is a two-part article, perhaps in the second half we will call I-80 a freeway and upset the other half of the readers. We aim to be an equal opportunity problem.
Some History on I-80
Construction began on the highway in 1956, when it was designated as one of the original routes of the Interstate Highway System. Built in segments, the final segment was put in place and open for traffic in 1986 along the western edge of Salt Lake City. It reaches its maximum elevation of 8,640 ft (2,630 km, for our Slavick friends) above sea level at Sherman Summit, Wyoming.
It is a long and interesting highway with much to offer the curious road tripper.
Haunted I-80
There is a lonely stretch of I-80 that runs from Mitchellville to Des Moines that is haunted by an apparition. Drivers and hikers have testified to seeing the glowing image of a man dressed in full colonial garb. They say he is the ghost of a French fur trapper and he glows in the beams of headlights and vanishes between passing cars and trucks.
Highway to Heaven Wyoming I-80
Some have called a spot on I-80 the Highway to Heaven. It got the name some years back when a truck driver was passing a spot near Fort Bridger, Wyoming, known as "The Three Sisters". He snapped this photograph: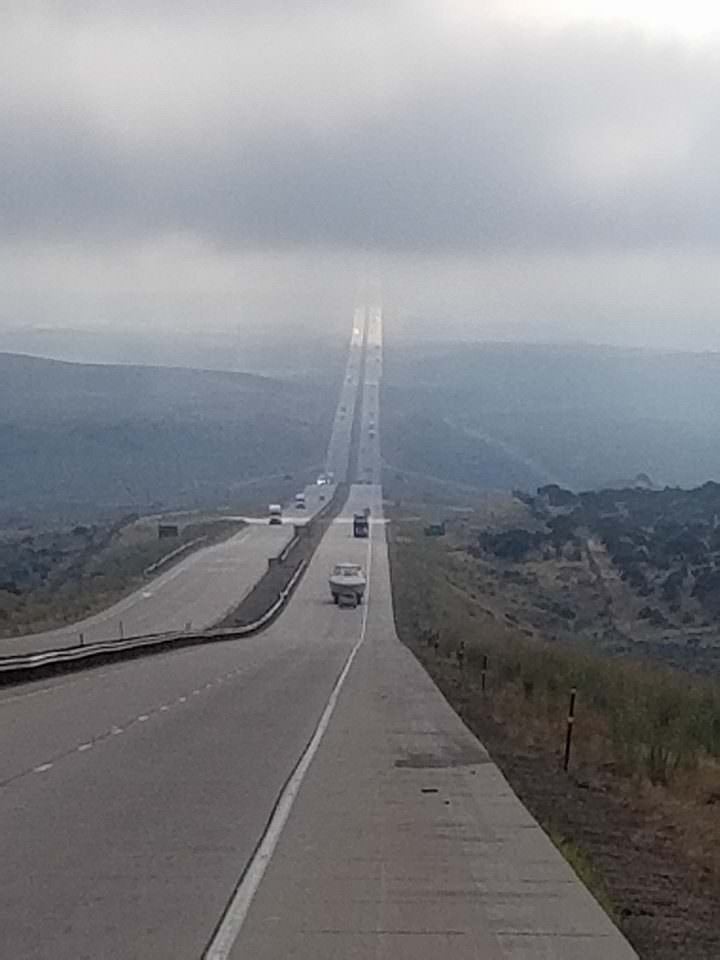 Which he then posted on social media, it went viral and the highway gained its new moniker. Some dispute this name rather calling it the highway to hell and still others say it's actually the highway to Little America and 50 cent ice cream cones. That sounds like a little slice of heaven.
What to See on I-80 by State

California I-80 Sights
Well since the highway starts in San Francisco, start there and enjoy a little of the city by the bay. The quirkiest city in the US of A. Explore the hippie capital of Haight-Ashbury, the city's legendary Chinatown and, of course, the architectural marvel that is the Golden Gate Bridge.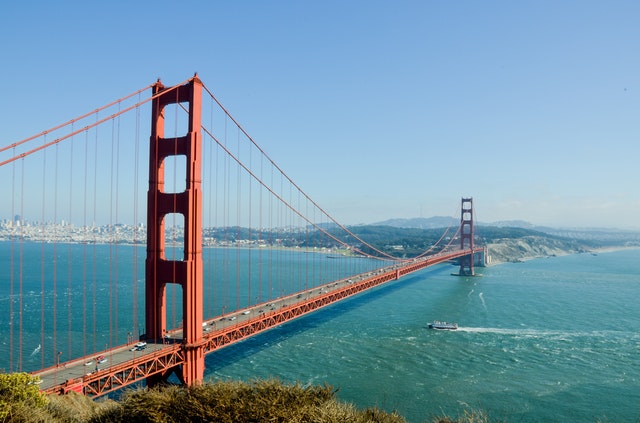 The Sierra Nevada is a stop you'll want to make to see the Empire Mine Historic State Park. This holds one of the "oldest, deepest, longest, largest and richest" mines in California. It has produced about 5.8 million ounces of gold in it's 100 plus years of operation.
In Alameda, you must take in the Pacific Pinball Museum. Wander back to a time before video games when the quarter was king and ever since you were a young boy, you played the silver ball.
Nevada I-80 Sightseeing
In Imlay, you have to see Thunder Mountain Monument. This is an art installation of sorts that was constructed by a WWII veteran with Native American roots. The monument is a series of buildings and sculptures made to provide shelter for people during the "Imminent Apocalypse". It was also a sort of spiritual refuge for hippies and travelers. Only a few of the buildings remain but the sculpture covers a wide area and it's a peaceful spot.
In Elko, you will find the Western Folklife Center. Here you'll find a lovely gallery, a museum, a gift shop, who doesn't like a gift shop? You can also take classes and see all the work being done to keep alive all aspects of the American West. The Center also holds the annual National Cowboy Poetry Gathering. Nothing like campfires and quintains to brighten up a long journey.
In Lovelock, you can, well, lock your love. Much like the famed Pont des Arts in Paris, France, you can kiss on this bridge and symbolically padlock your love to a fence as well. Nothing says romance like a portable shackle.
Hello Reno! Casinos in Reno ... as well as the Fleischmann Planetarium which is part of the University of Nevada, go Wolf Pack. Here you can see star shows and films projected on the inside dome.
Utah I-80 Stops
Salt Lake City, the capital of the state, is a city that you'll want to lay aside some time to wander through. Not only is it the spot where I-80 was completed, but it's also the hub of the Mormon Church. The religion's main temple is there. There are also great museums; natural history and the city's art museum. You'll certainly want to see the George S. Eccles dinosaur park. See prehistoric giants come to life with robotics and incredible sound effects. And, of course, the Utah Olympic Park. This was the center of the world stage for the 2002 Winter Olympics and it's still used and a training facility for Olympic hopefuls.
Now I-80 moves north to …
Wyoming I-80 Tourist Stops
Ah, the wonderful wonders of wild Wyoming. Apart from inspiring a lot of alliteration, there's plenty to see here.
Evanston holds the wild splendor of Bear River State Park. Here you get to fully appreciate the state's incredible landscapes and see some of the indigenous wildlife. The park is home to herds of elk and bison. See and feel like you're once again a part of the wild west.
Fort Bridger, the spot of the famed highway to heaven photograph, was established in 1843 as a supply stop on the Oregon Trail. Today you'll find recreations of the old trading post and fort buildings. There's also an archeological site where the remains of the actual buildings are preserved.
Superior is home to the Natural Corrals Archeological Site. Ancient lava flows formed this rugged landscape that is dotted with caves, some of which have ice in them all year round. Great place for a cocktail. There's also evidence that native Americans took advantage of the landscape here and used the place for buffalo kills.
Rawlins holds the Fort Fred Steel Historic Site. This is an old army post built to protect the railroad. Now, it's an education center. Step into history with old buildings, exhibits, and education to be consumed.
Still in Wyoming friends …
In Laramie, you're going to want to stop at the Wyoming Territorial Prison Museum. Built in 1872, many famous outlaws walked in and most never walked out. Included in the list of desperate desperados is the famed Butch Cassidy. The Sun Dance Kid was not known to have been incarcerated here.
Warren Airforce Base is the site of the ICBM Missile Museum. The Intercontinental Ballistic Missile and Heritage Museum to be precise. The history of the ICBMs and 90th Missile Wing- which operate Minuteman III missiles across the west. This is the oldest continuously active military installation within the United States Air Force.
You cannot pass through Wyoming without a stop in Cheyenne. Downtown you're going to enjoy a real live western show complete with gunslingers, western-themed skits and all kinds of old west fun. Careful, pardner, you may become part of the show.
Bye Wyoming, you showed us more than we could ask ya, now we're on to …
Nebraska I-80 Roadside Attractions
North Platte is where you'll find the Union Pacific Railroad's Baily Yard. Named after Edd H Baily, the Union Pacific president, the yard manages 10,000 railroad cars every day! 2,850 acres in size, it's the world's largest train yard. You really must go to the top of the Golden Spike Tower to truly appreciate its massive nature.
The Heartland Military Museum is in Lexington and for military buffs this place is nirvana. A huge collection of military vehicles and that includes helicopters and tanks. There are also vast displays of weapons, uniforms and a variety of military equipment.
The Classic Car Collection is an ever-growing display of meticulously preserved cool, vintage cars. These cars span across history. You'll only see this in Kearny.
Make plans to stop in Seward and gaze in awe at the World's Largest Time Capsule. The capsule is a 20' by 8' by 6' concrete vault that is filled with 5000 objects donated by the citizens of Seward. Rumor has it there's a car in there. The capsule was dedicated in 1975 and is set to be opened in 2025.
That brings us to the edge of Nebraska and entering Iowa. We'll call that the halfway point and stop part one here. As you can see … there's a lot to see. In the next segment, we'll cover the remaining 6 states that I-80 passes through and gets us to the east coast.
There is a tremendous amount of military, agricultural, cultural and human history in our great nation and much of it can be tracked along the highways we travel. I-80 is a perfect example of how we've grown to be the nation we are today.
If you have a favorite spot on I-80 between California and Nebraska, leave it in the comments for others to learn about and maybe even visit.