Famous Semi Trucks Throughout Film and Television
by Pride Transport | Jul 13, 2021
When you think of famous movie props, images of a Star Wars lightsaber or Dorothy's ruby slippers might come to mind. Images of semi-trucks or other automobiles however, might not be what you think of first. Yet, it's worth noting that Hollywood has a robust history of creating television shows and movies that feature semi-trucks and trucking life.
While not as prevalent today, during the 1970s and '80s semi-trucks and the trucker lifestyle was often romanticized on both the big and small screens. This was the period frequently referred to as the golden age of trucking. Pop culture often leaned into the independence that came with truck driving and the perception of it as a carefree, adventurous way of life.
Some of these perceptions bled into the 1990's, but interpreted the technological advances of trucking and the transportation industry into sci-fi plots and storytelling. From both the golden age of trucking through today, there are many more famous trucks than you might realize. Let's take a closer look at some of the most famous semi-trucks in film and television and what made them so popular.
Whether you're a seasoned truck driver or just enjoy the lifestyle, we definitely recommend you check out these films and television shows If you haven't already.
How Hollywood Depicts The Trucking Lifestyle
Along with showcasing the actual trucks themselves, the truck driving "lifestyle" is
frequently portrayed in the entertainment industry. However, like many Hollywood-ized things, the perception of what it takes and means to be a truck driver is often incorrect at worst or heavily romanticized at best.
Long-haul, over-the-road jockeys who traverse across the U.S is what most often gets shown. It's portrayed as a nomadic lifestyle, intriguing, adventurous, with no rules or deadlines, like a great American road trip.
It's not surprising that this makes many people misunderstand what it takes to be a full-time truck driver as many people (in real life and on the screen) seek to live vicariously through the men and women drivers depicted to have their own soul-searching adventure.
5 Famous Semi Trucks In Movies & TV
There are some semi trucks loved by truck drivers for their smooth ride, design, and of their nostalgia factor. For Hollywood, there are trucks universally featured for similar reasons. From a 1960 Peterbilt 281 to 1974 Kenworth W925, let's take a look at some of the five most famous trucks in pop culture.
Smokey And The Bandit
Truck: Snowman's Kenworth W900
Easily one of the most iconic movies of all time and certainly one of the most famous trucking movies to date, 1977's Smokey and the Bandit is an action/comedy movie starring Burt Reynolds. As one of two bootleggers illegally transporting beer across the country, Reynolds' job is to distract law enforcement. While his Trans Am got lots of attention, it was the other driver (carrying the beer) that seasoned truckers and trucking enthusiasts appreciated.
This truck was a Kenworth W900 with a unique mural of the wild west painted on the side of the trailer. Three different trucks were actually used during filming, two 1974 models and one 1973 model.
Convoy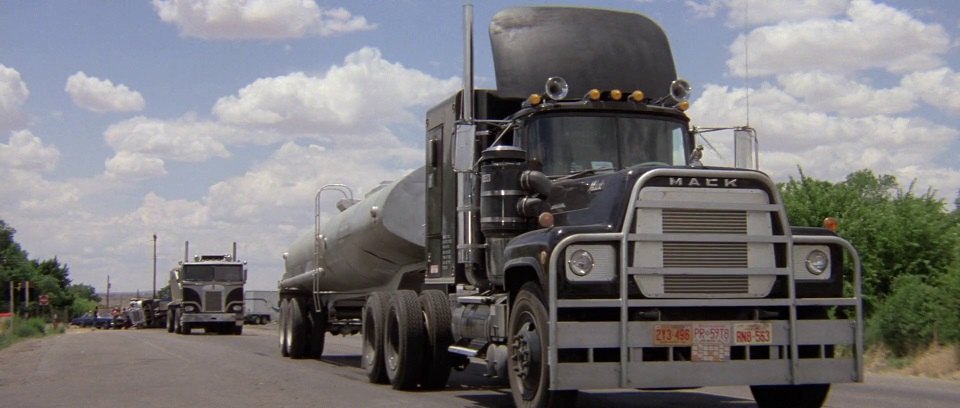 Truck: Rubber Duck's 1977 Mack
A year after the massive box-office success of Smokey and the Bandit, another truck driving movie graced the big screen. This movie certainly didn't reach the same level of fame but it remains a sentimental favorite for truck drivers everywhere. Based on a country song of the same name, this film was made during the height of the CB radio craze.
Multiple Mack trucks were used during filming, but Duck's truck was almost always a 1977 Mack RS712LST, painted black with a grille guard to make the semi look as tough and fearful as possible. The most famous aspect of the truck however, isn't exactly suited for a tough guy, the duck hood ornament.
Transformers
Truck: Kenworth K100
Arguably one of the most famous semi trucks in pop culture is Optimus Prime. A sentient robot, Optimus prime is the leader of the Transformers. Originally created in 1986 (though Google will tell you he originated 9 million years ago) Optimus Prime has been featured in multiple movies, comics, and television shows.
Throughout these multiple overlapping universes, Optimus Prime has taken the form of a few different trucks. In the beginning he was depicted as a cab over a Kenworth K100, but has also been shown as a Peterbilt truck.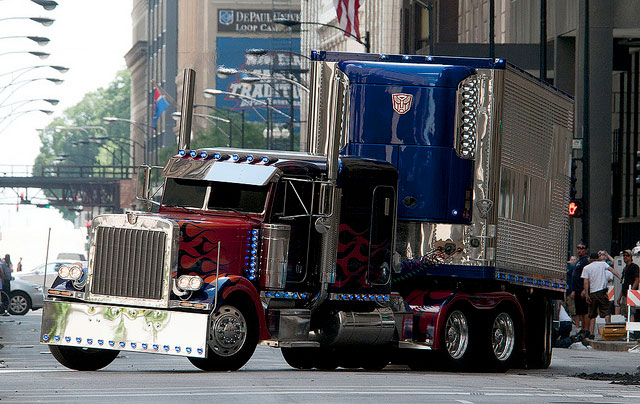 Optimus Prime will always hold a special place in our hearts as he has been known to pull a refrigerated trailer on some occassions. Including in the third installment of the film "Transformers 3: Dark of The Moon".
Maximum Overdrive
Truck: Western Star 4800
Probably one of the most...interesting films on this list is also one that's hard to
forget. Maximum Overdrive is a 1986 movie directed by Steven King and based on his short story "Trucks." While Steven King is a great storyteller, this horror film is more comedy when you watch it now. But fans of AC/DC will appreciate the soundtrack which features only their music.
Essentially, a comet makes random objects come to life, including a Western Star 4800 truck with a Green Goblin grille. This semi (along with all the other trucks) set out to murder and destroy.
Duel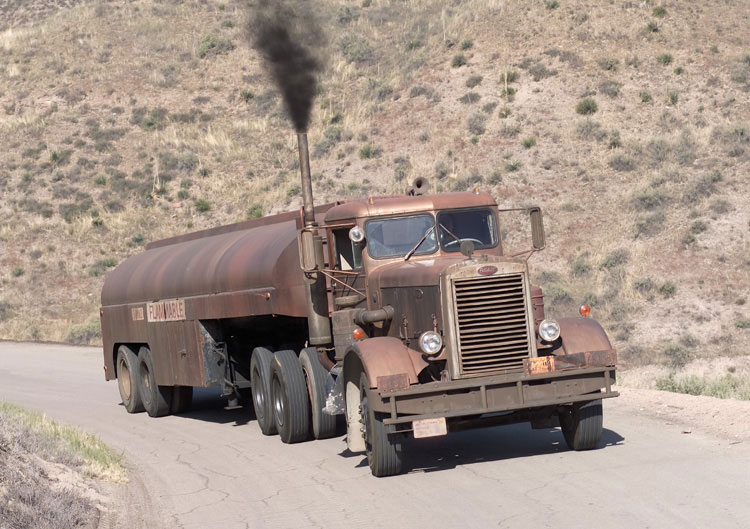 Truck: 1970 Peterbilt 281
Speaking of famous writers and directors, in 1971 a little-known director named Steven Spielberg released his first feature length film. This action/thriller, which initially began as a made-for-TV movie, follows a psychotic truck driver who follows, chases, and terrorizes other drivers on the road.
The horrific truck in question? A 1970 Peterbilt 281, though a Peterbilt 351 was also used in filming.
Other Famous Semi Truck Movies
While the above five are arguably the most popular semi trucks in cinematic history, there are numerous other movies and television shows that feature trucks. While we highly recommend the above, there are so many other great trucking movies to watch. Other famous semi truck movies worth noting are White Line Fever (1975) which features a 1974 Ford WT9000, In Tandem/Movin' On (1974) which features a 1973 Kenworth W923, Tatra in Mad Max, a heavily modified war rig, Hijack (1974) which shows a 1974 White Freightliner WFT-7564, High Ballin' (1978) which features a 1973 Kenworth K123, and the vintage classic They Drive by Night (1940) which showcases some incredibly interesting original trucks like the 1928 Sterling EB 18, 1934 GMC T-Series, and the 1937 GMC F-Series.
Work With Pride
Did these famous movies spark a desire to hit the road? Truck driving offers a change of scenery, a change of life, and a chance to give to the community and the world around you. It might feel good to be a part of something bigger than yourself and see the world from the cab of a truck.
Truck drivers do a lot to keep this country moving; why not join them and see what life feels like from the cab of a Pride truck. For more information, visit https://www.pridetransport.com/ and see what your future holds.
NOW HIRING OTR DRIVERS.
CALL 1-800-GO-PRIDE AND TALK TO A RECRUITER TODAY.