DOT 16-hour Extension Rule for Truck Driving
by Pride Transport | May 03, 2022
What Is the DOT 16-hour Extension Rule for Truck Driving?
Safety is paramount in the success of a truck driver as an individual, a part of a company, and on a nation-wide scale. The trucking industry is governed by rules and regulations specifically designed to keep commercial drivers safe, as well as protecting those who they're sharing the road with. For example:
Additionally, requirements are frequently updated. Check out the latest requirements for drivers in 2022.
The 16-hour rule is part of the regulations from the Department of Transportation that keep drivers alert and safe. Let's take a look at what the rule requires of drivers, when exceptions may be made, and how drivers can make sure they're following the Department of Transportation requirements.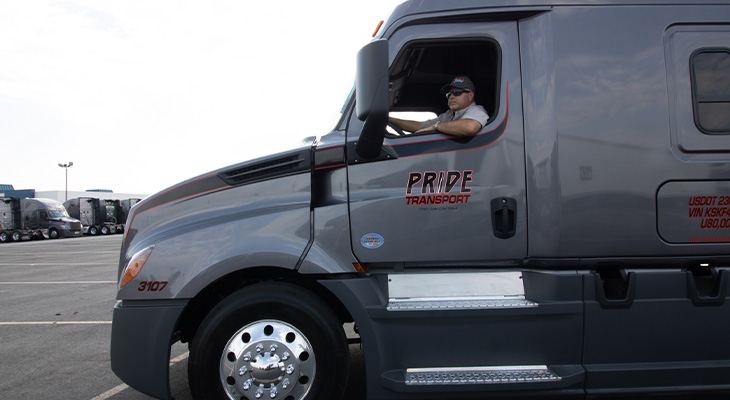 What is the DOT 16-hour Rule?
First things first, what is the 16-hour rule? The Federal Motor Carrier Safety Administration (FMCSA) published the Interstate Truck Driver's Guide to Hours of Service to describe it and also details the regulations on their website. The 16-hour rule is part of the "hours of service" (HOS) restrictions FMCSA uses to ensure drivers are alert and safe on the roads.
HOS rules apply to commercial motor vehicle drivers of a truck or truck-tractor with a trailer is involved in interstate commerce and meets any of these requirements:
Weighs (including any load) 10,001 pounds (4,536 kg) or more, OR

Has a gross vehicle weight rating or gross combination weight rating of 10,001 pounds (4,536 kg) or more, OR

Is transporting hazardous materials in a quantity requiring placards
Drivers who have trucks meeting one of these limits are required to adhere to a 14 hour shift limit as set by FMCSA:
"[Drivers] ​​may not drive beyond the 14th consecutive hour after coming on duty, following 10 consecutive hours off duty. Off-duty time does not extend the 14-hour period."
The 16-hour rule is an exception to this 14-hour limit that may apply to short-haul drivers under appropriate circumstances. If a driver typically comes back to their work-reporting location each day and goes home at the end of their workday, they may qualify for the 16-hour short-haul exception.
The 16-hour exception allows drivers to extend their 14-hour driving window to 16 hours one time every 7 consecutive days, when they meet certain conditions and their driving will not be negatively impacted.
The 16-hour rule does NOT extend the 11 hours of allowed driving time within the 14- or 16- hour window.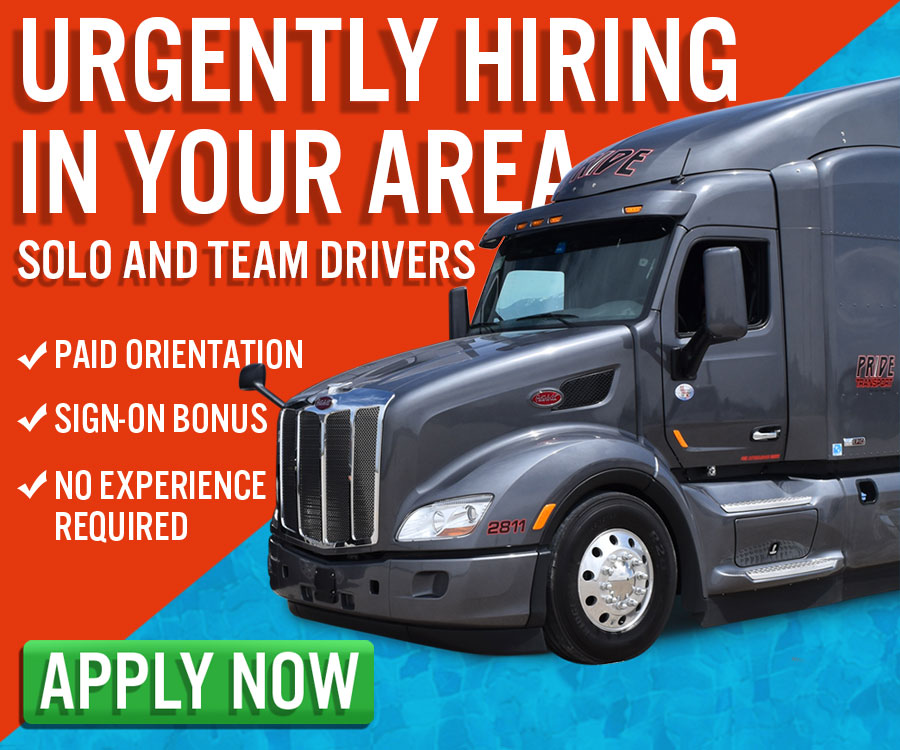 How Do Drivers Qualify for the 16-hour Exemption?
To override the 16-hour rule and extend their driving window the FMCSA guide gives drivers a strict set of criteria:
"Return to your work reporting location that day, as well as for your last 5 duty tours. A duty tour is the period of time from when you come to work to when you leave work. It is your
'workday,' the time between your off-duty periods of at least 10 consecutive hours.
You must be released from duty within 16 hours after coming on duty. You must only use this exception once every 7 consecutive days (unless you took 34 consecutive hours off to restart a 7- or 8-day period). You may not use this exception if you qualify for the 'Non-CDL Short Haul Exception.'"
The 16-hour rule is in place to allow drivers who are close to home to make it back, even with some unforeseen delays or unusual circumstances. It does not extend the actual drive time allowed and should not jeopardize the safety of drivers.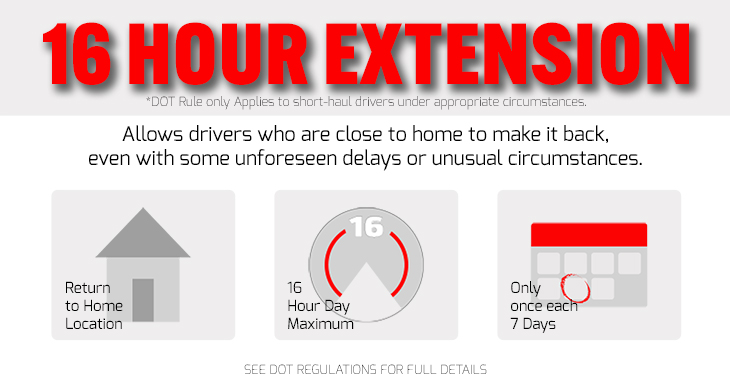 How Do You Enter Exceptions to the 16-hour Rule?
Records are important in trucking. In order to be able to prove compliance with DOT regulations, drivers must adhere to the policies and practices in place with their company for entering a 16-hour exception. Generally, either a driver or fleet manager must record:
The total driving time over the last week

The exact release time for the driver to finish duty each day

The total hours of service per day (both driving and "on duty")

The time that each fleet driver reported to duty
There are several apps that allow truckers to log their hours and classify a 16-hour exception as well. Some of these apps will also alert drivers tracking their time to help them log their exceptions correctly and remain compliant with DOT standards. Whatever tracking method you use, make sure to keep it completely accurate and up to date.
Ultimately, the 16-hour rule is in place to keep everyone safe. Pride knows building a culture of safety as drivers and those who support them is critical to both individual well-being and the economic success of our team. We are proud of our track record of safety, including our drivers who have incredible proven safety records:
500,000 safe miles – 15 Pride Drivers

1,000,000 safe miles – 46 Pride Drivers

2,000,000 safe miles – 13 Pride Drivers

3,000,000 safe miles – 5 Pride Drivers
Are you wondering what a day in the life of a truck driver is like? Check out this post to see what drivers see and experience on the road. Or if you're interested in learning more of the DOT testing and requirements, check out this one!

If you're interested in driving yourself, or working to support our fleet of drivers, take a look at our FAQ to see what benefits and culture you'll find at Pride Transport.