Delivering With Pride
by Pride Transport | Dec 22, 2020
Have we mentioned this before: we love what we do.
It's true. We've written about how much we love our drivers, how much we are a family, how proud we are of our owners, our dispatch teams, our mechanical experts, but what makes all that even better is the fact that we love what we do.
It's more than just driving on the open roads and seeing this great country of ours. There's something about what we do that makes coming home at the end of a run feel that much better—knowing that we did the job well and that we get to do the job well again tomorrow. That's a great feeling, and that's what makes us love what we do.
But there's something more. Something unique and precious to us that gets us out of bed in the morning brings us to put on our game face and pushes us to do better, a little better every single day, and that is our commitment to our customers. Because, without them, why bother?
When we started this company, we thought we'd be the best in the business. We'd treat our drivers with respect, pay a fair wage, and always strive to be a company that was a leader in the industry. We made these demands not just for ourselves but for the customers we serve. We know that when we do our job well, others can see their business thrive, their lives get better, and their days can be just that much easier. So we strive to be the best for us and our reputation and those who come to us and ask us to get what they need where they need it on time.
We made and kept a commitment to our customers.
What You Can Expect From Us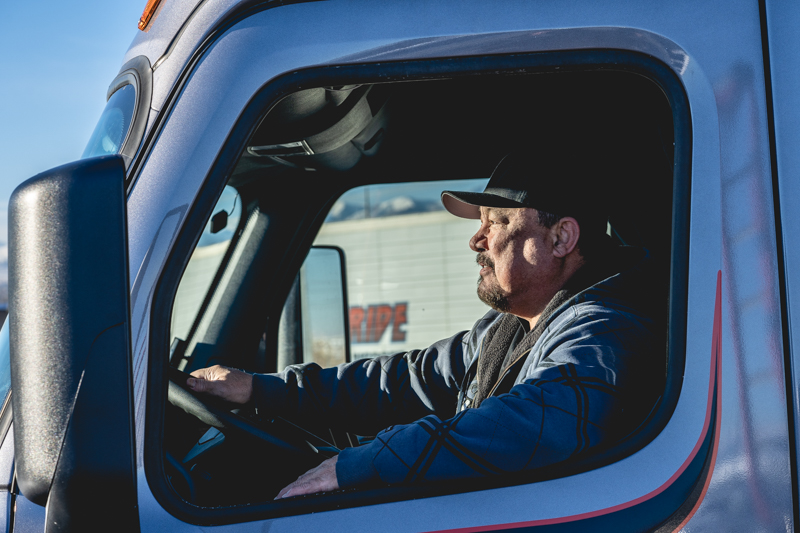 First and foremost, you can expect honesty and integrity. That means when we say it will be there on time, it's there on time. We'll be honest about how long it will take, we will be honest about how much it will cost, and we will do all we can to earn and keep your trust.
Look, we know that these are some odd and trying times. There are many things you're worrying about concerning your business. It's our job not to be a worry. It's our responsibility to handle your transportation needs in a way that allows you to focus on other things. That's what we tell you we'll do, and that is precisely what we do. You can expect that from us.
Solutions
Inefficiencies in the supply chain directly affect the loss of margin. Any trucking company that tells you, well, that's just the way it is, isn't paying attention.
An efficient and accurate supply chain should never be a mystery factor, you cannot live like that, and you cannot run a business like that. We don't offer our customers excuses; we don't. We give them an experienced fleet and customer service team that thrives on coming up with unique solutions to your personal needs. Advanced technology, round the clock service, and that love of what we do ensure our customers are getting an unbroken supply chain. We offer solutions where others might offer shrugs and platitudes.
Services to match needs
Show us a one-size-fits-all business, and we'll show you a world full of unique individuals with extraordinary ideas and personal visions that don't fit into your view of the one-fits-all mold. There is too much variety globally, too many people with personal visions and unique dreams that translate into specific needs. If you look at them all as being the same, you're going to fail 90% of them.
We see and treat each customer as they are; unique. Each company we work with has their needs, their ideas, so we listen, and we give them solutions to their challenges. We have around the clock tracking for secure transit. We specialize in handling perishable items, getting them where they need to be on time and in full health. We have full load offerings; we have last-mile services and local solutions.
We have cultivated and built a reliable network of high-volume lanes supported by strategic terminal and relay locations. This allows us to service freight needs with express transit times and high service demands. We provide our customers with consistency, stability, and solutions to volume needs, breakdowns, weather, and relay options.
That is not a one-size-fits-all view of transportation. Because our customers aren't all the same.
We want you to succeed
We see the world as many people, many moving parts, and if one part succeeds, that doesn't mean there is less for others; that means we all succeed.
Our part of this world is to keep your business moving, keep your people supplied, keep the supply chain flowing and unbroken. We do this because, of course, it's our job, and it makes payroll and all that, but more than just straight remunerative reward, we want those who work with us, everyone really, to succeed.
When you know your place in the world, it opens you up to unimaginable possibilities when you can see beyond just your own needs and desires. We give our customers unparalleled service because when we do, they have the opportunity to do more. Maybe working with us will help them see changes they need to make to serve their clients better. And, in turn, those clients will be affected and serve their customers better. What we have inspired is a line of success that could be ongoing forever.
So, when we tell customers we want to help them succeed through our superior logistics, we mean that. And we mean that because we can see beyond this one transaction. We see that a strong relationship with our customers, built on trust and reliability, can change the way they do business, the way they strive to be better. Better in their business and better at understanding the world around them and how others' needs concern us all.
Customers are partners
This is true because we succeed together. Pride does not exist in a vacuum. Each customer allows us to do what we love and what we're good at. We have purpose, and that purpose is our customers.
It's easy to say, "The customer is always right" or "we put our customers first Businesses have been doing that for centuries. For some, it's a nice little sign to hang up behind the register, a half-hearted swipe at business acumen. That's fine but, that's not us.."
We see our customers as partners, and so, we show them the respect and the loyalty we show our one people, our own family. We cannot do this work without them, and without them, there is no purpose, no reason to do the work so we succeed together.
Our Commitment to Our Customers
To give them our very best every time. Simple. We don't do half measures, we don't make excuses, we give our word, and we follow through.
At Pride, it makes no sense not to make sure our customers are satisfied with every aspect of the job we do for them. Why do it any other way?
Everything we do says you are in good hands, and you can trust us with your business. Your business is our business and not to be a broken record, but when you succeed, we succeed, and others succeed, and the world gets a little better.
It's more than just the name of our business; it's a way of life for us. From our founder to our drivers, we are proud of the way we do business, and we are proud to work with the customers who trust us, and we take pride in doing it better every single day.
That's driving with Pride.