5 Must Have Items For Truck Drivers on the Road
by Pride Transport | Aug 16, 2021
Before you leave your house, even if it's just to run to the grocery store, you almost always do the essential item check, whether you even realize it or not: phone, keys, wallet. When you leave for the road you not only do this essential check, but make sure you have the other must-have items for a job.
These range from personal items like medications to the universal driving items that keep you safe and healthy. Whether you're a seasoned pro or you're just entering the truck driving industry, there are certain things that will keep you safe, healthy, and comfortable while out on the road. Let's look at the most popular 5 must have items for truck drivers on the road and why we recommend you always have them on hand.
Your Truck Is Your Home Base
Long haul truck driving isn't always the easiest. When you're out on the road you don't have all the comforts of home. A cozy bed or a kitchen for example, are just some of the things that truck driver's tend to miss the most. Your cab however, becomes your home.
This is where you spend most of your time so it's important to pack the essentials in order to make every journey an efficient and enjoyable one. No matter where in the country you are, your cab will be your temporary home so it's important to make sure it has everything you need. Today's big rigs contain many of the trappings of home and with a few easy accessories or simple touches, you can elevate your experience on the road.
5 Must Have Items For Truck Drivers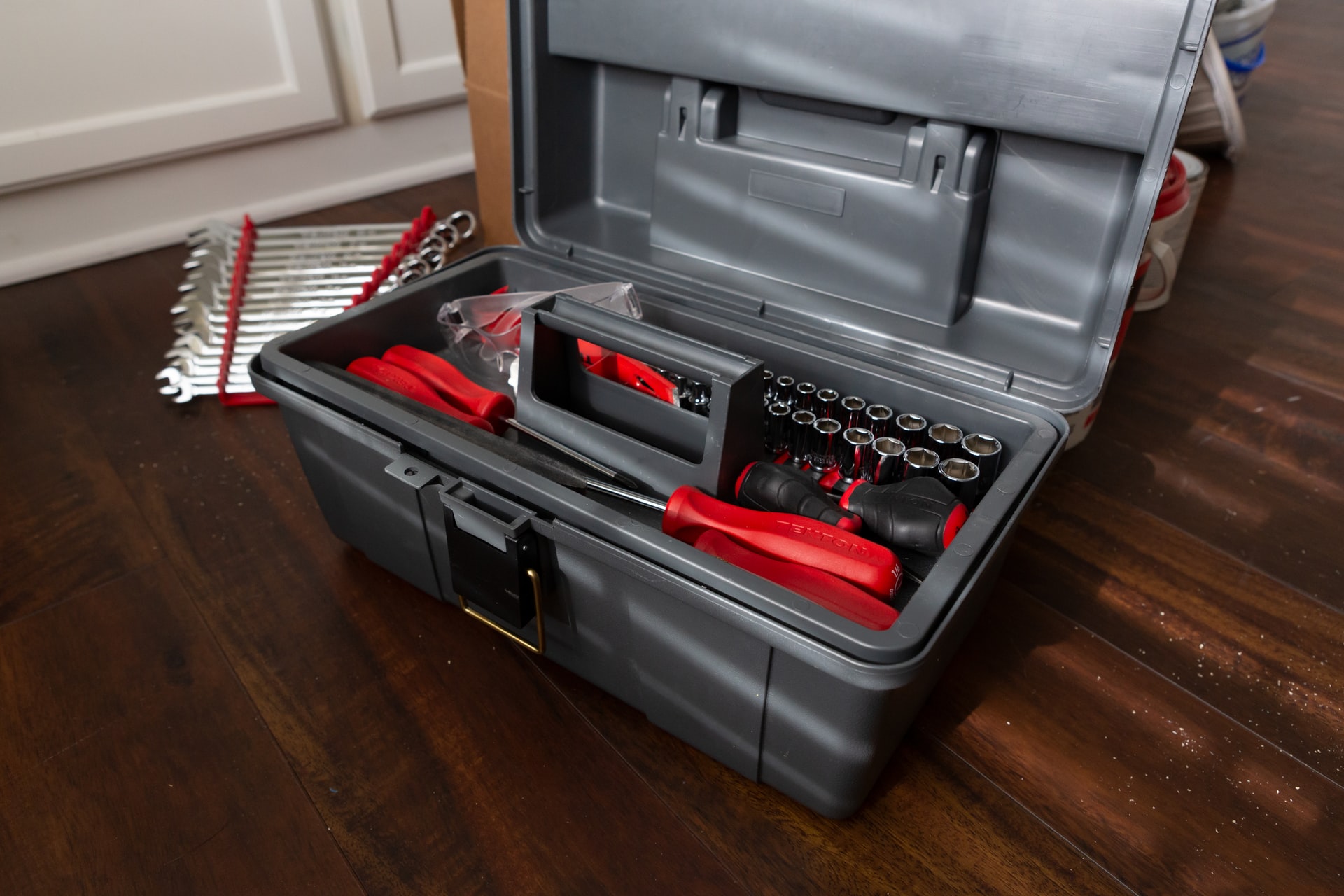 Cleaning Supplies
If that past year has taught us anything, it's the importance of cleaning frequently and effectively. With increased vaccines and safety measures in place across the country, many feel the relief of having Covid-19 go away forever. This isn't necessarily true, and unfortunately, there are tons more viruses to worry about, even just the common cold and flu. Nobody wants to get sick, especially on the road. That's why frequent hand-washing and sanitizing of your cab are key to staying healthy on the road and not bringing any viruses back to your loved ones.
Make sure to pack a cleaning kit with disinfectant wipes, paper towels, dashboard cleaner, air freshener, disposable gloves, hand sanitizer, all-purpose cleaner, and a handheld vacuum. These won't take up as much space as a regular vacuum and are just as effective. Learn more about How To Properly Sanitize Your Cab.
Emergency Kit
A properly stocked emergency kit should contain the essentials in case of inclement weather or a vehicle malfunction or breakdown. In addition to having extra food and bottled water, be sure to have first aid supplies, duct tape, tarp, de-icer, jumper cables, tire chains, road flares or cones, light-reflective clothing, and a set of warm clothing including socks and a jacket. We know it can sound old school, but it's also important to have a physical map or atlas in case service goes out or your electronics break. Similarly, we recommend writing down a few of your emergency contact information on a piece of paper and keep it with you at all times.
A fully stocked first aid kit should also be included in your emergency kit and should contain band-aids, adhesive tape, rubbing alcohol, bandages or gauze, instant cold packs, scissors, tweezers, and pain relievers like Advil.
Toolbox
While every truck driver should have an emergency kit like the above, they should also never hit the road without a quality toolbox. It's almost inevitable that at some point, a driver will have to make simple repairs or fixes in order to get back on the road or make it to the next truck stop. While serious issues will be rare, it's better to be prepared than to say "if only I'd packed a ___."
Your toolbox should be equipped with a screwdriver, zip ties, duct tape, pliers, brake cleaner, hammer, wrench set, tire pressure gauge, flashlight, spare batteries, pocket knife, jack, WD40, plug kit, and an extra light bulb or two. Remember that if an issue does arise you'll always have your trusty CB radio to keep you in contact with other drivers and emergency services.
Power Converter
Now that your cab is clean, safe, and stocked, let's consider some of the must have items for truck drivers that will benefit your overall well being on the road. Having a comfortable and amenity-filled cab will do alot to keep you healthy and happy on long haul trips. One of these must-haves is a simple power converter. With this handy gadget you'll be able to use your engine to power small home appliances like a mini-fridge, crockpot, toaster oven, electric blanket, or coffee maker.
It might seem small but these little devices can make your journey much more comfortable while opening up many more possibilities for eating while on the road. For instance, many drivers love having a slow cooker in their cab. In the morning you can throw some veggies and meat into a slow cooker and a few hours later enjoy a home cooked dinner.
Healthy Snacks
Not only is it expensive to be constantly eating out and buying gas station snacks, but it's terrible for your overall health. Make sure to pack some healthy snacks, and vitamins so you're not always relying on fast food. Some healthy snacks that don't require refrigeration are: nuts & seeds like almonds, walnuts, sunflower seeds, peanut butter, bread, crackers and whole grains, apples, bananas, protein bars, and jerky.
While your trusty power converter however, you'll be able to purchase a cooler or compact refrigerator in order to keep some food, drinks, and meals cold. This will prove indispensable on the road and help you from constantly relying on fast food.
Other Must Have Items To Pack For A Long Haul Trip
While the above items for truck drivers are the most essential to pack, there are many other important things to remember to bring along with you on your next route.
Personal Items: These are the things you'd bring on any regular trip like medication, phone chargers, personal hygiene items like deodorant and a toothbrush, and clothing. It's good to have a mix of comfortable driving clothing and some off-duty clothes. Always pack a jacket no matter the time of year as altitudes and air-conditioning can make things chilly. And don't forget some sunglasses! Polarized, UV protectors, or transition lenses are key.
Safety Apparel: If you're personally offloading, unloading, or driving a refer it's important to wear steel toed boots, hard hat, coveralls, and safety glasses or goggles. A good pair of gloves are also essential. We love leather cowboy gloves for their comfort and durability and tend to be much less restrictive than synthetic gloves.
Entertainment: Every trucker gets bored and every trucker needs a way to unwind after a long day. It can be tempting to just rely on a cell phone but services can be spotty and data isn't cheap. You can purchase a mobile wifi hotspot to connect multiple devices and even install a small TV in your cab. It's also recommended to take a break from screens and pack some good old fashioned books, crossword puzzles, or drawing supplies.
Drive With Pride
At Pride Transport, we don't just hire truck drivers, we help train them and work on developing lifelong skills. We give you the tools you need to be the safest driver possible but we'll also give you a clear picture of what life on the road is like. Not only do we offer evaluations and full training programs, but we pay you to get the training you need to succeed. With our stellar reputation, high-level job placement, knowledgeable training programs, and dedicated support, get ready to make a real difference with Pride.